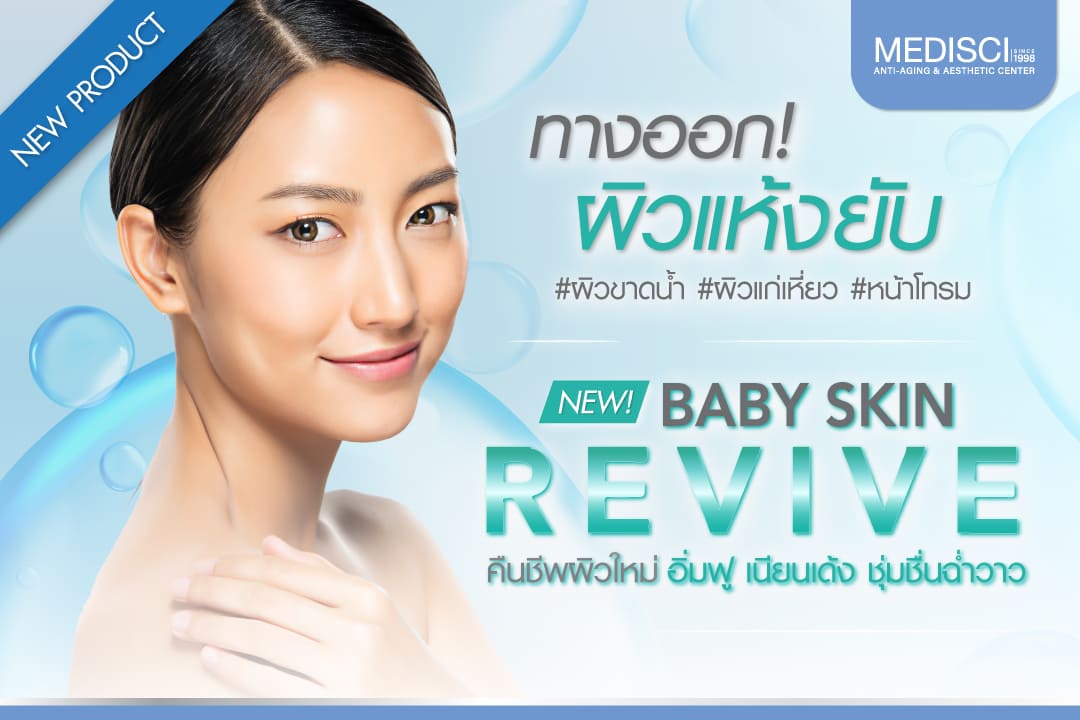 Although fillers and Botox are widely accepted and popular anti-aging treatments around the world. However, the safety and the results after treatment are a concern for many people. That may be a lumpy or smooth texture that the face does not get the desired image or the problem is not straight. However, those problems will alleviate if under treatment and supervision from a skilled doctor. Combined with a powerful filler like Belotero Revive with a variety of colorants that deeply adjust the skin structure to be tighter, smoother, and easier to make up.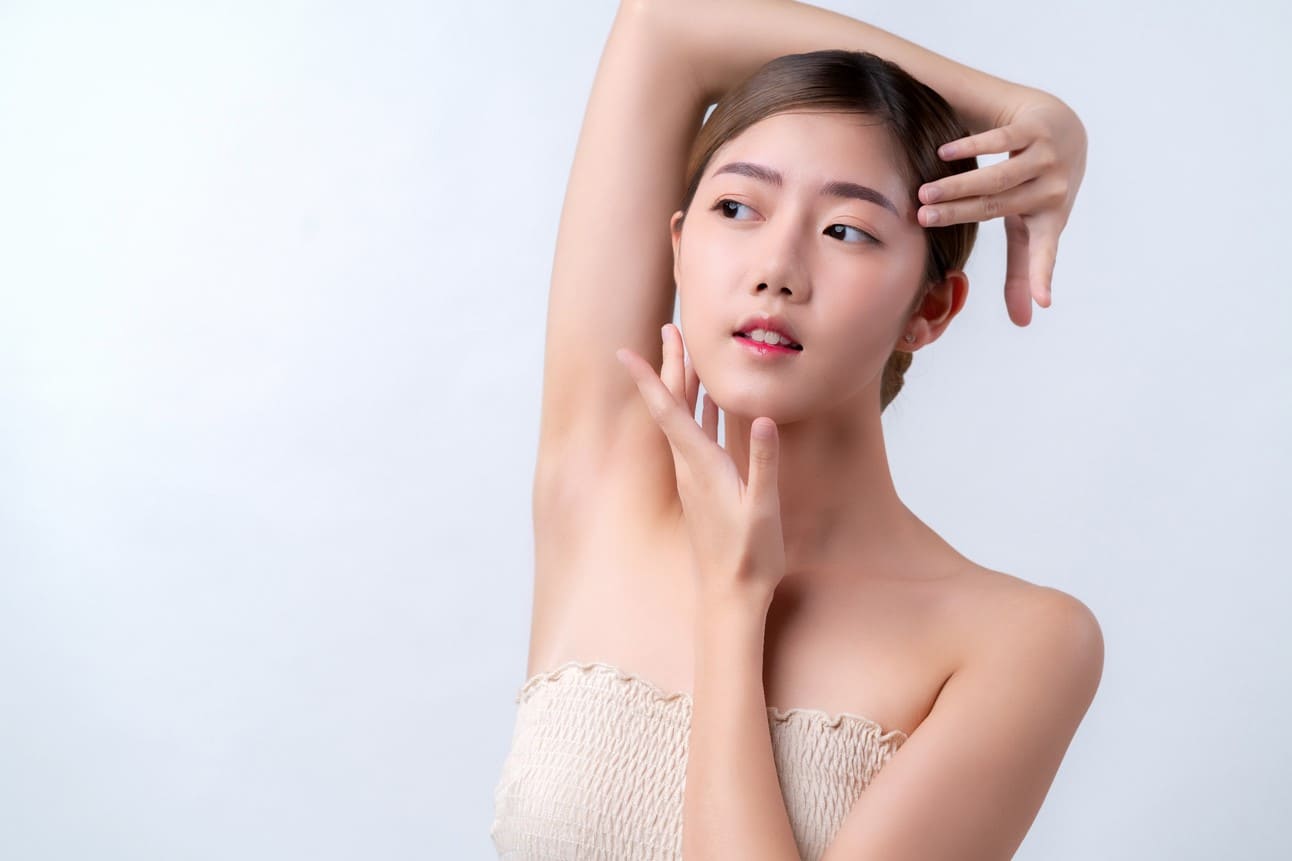 What is Filler?
---
'Filler' is probably one word that resonates in many people's minds, but there are also many people who do not know exactly what filler is. A filler is a group of substances used for injecting procedures to fill the skin layers of the forehead, lips, nasolabial folds, and neck. and around the eyes to tighten wrinkles, lines, or acne scars for fading away. These are generally divided into 2 groups:
Fat Graft: Relocating fat from unwanted areas such as the abdomen, and thighs to fill in the facial area that needs treatment.
Synthetic Filler: A synthetic medical substance used for injecting facial fillers to smooth and taut skin. Synthetic fillers can also be subdivided into both temporary and permanent fillers. Hyaluronic Acid (HA) is one of the most well-known and popular temporary fillers in the beauty industry. high current
Hyaluronic Acid
---
Hyaluronic acid (HA: Hyaluronic Acid) is used the most in many clinics and hospitals because it is a natural substance that exists in our skin. When we inject such HA into the skin layer in the treated area, there is less chance of reaction and side effects compared to using other fillers.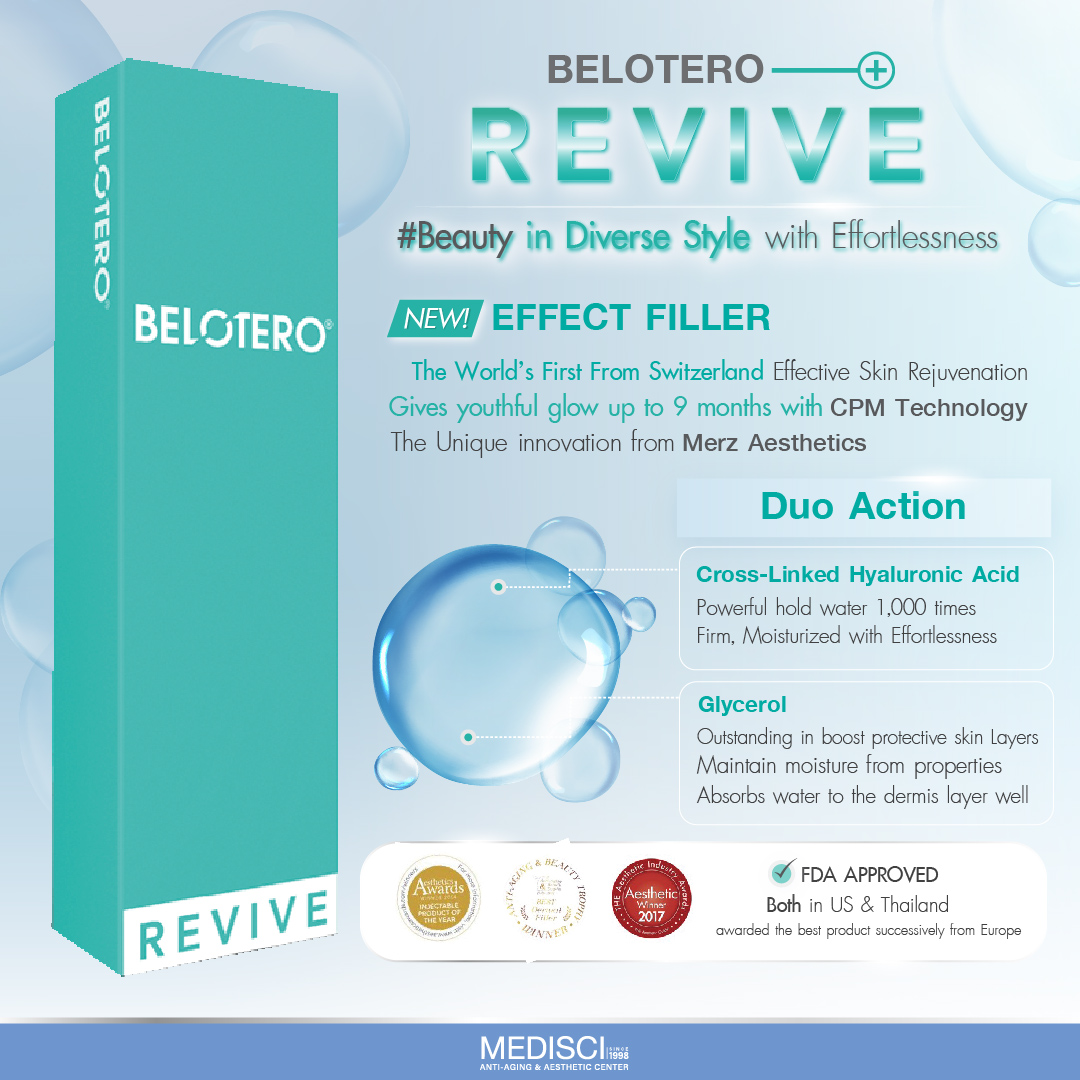 Belotero Revive: Fulfill Your Beauty in Dimensions and Styles
---
Belotero Revive is the first innovative Effortless Filler from Switzerland known for its effectiveness in filling the skin by adding two ingredients: Hyaluronic Acid and Glycerol to restore skin to be smooth, full, moisturized, and tight. Compact, multi-dimensional, with CPM (Cohesive Polydensified Matrix), a proprietary technology from Merz Aesthetics, is the mechanism behind the product. The two ingredients have different characteristics as follows.
Ingredients of Belotero Revive
---
The two ingredients have different characteristics as follows
Cross-Linked Hyaluronic Acid: Due to an important natural substance in the skin layer, which has the ability to absorb water up to 1,000 times, this assist to moisturize the skin cells to be flexible and firm, reducing wrinkles, and spots on the face.
Glycerol: A substance that is outstanding in holding and absorbing water from the stratum corneum to the dermis. thus help to maintain moisture and effectively strengthen the protective layer of the skin
In addition, Belotero Revive is a multi-research-proven filler and has consistently been awarded the Best Product Award in Europe, including Aesthetics Awards Winner 2014 Injectable Product of The Year, Best Dermal Filler Anti-Aging Beauty & Trophy 2015 – 2017, The Aesthetic Winner Awards 2017, and many more.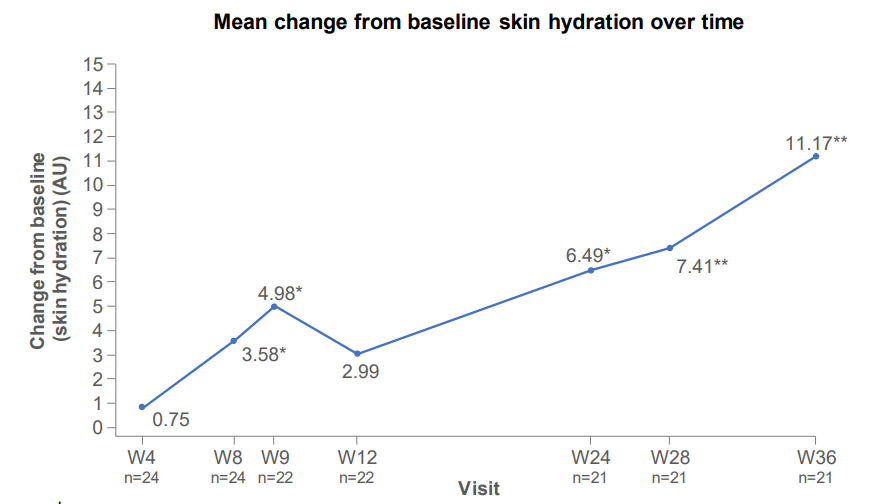 ภาพแสดงให้เห็นถึงความชุ่มชื้นบนใบหน้าที่เพิ่มขึ้นตลอด 9 เดือนที่ผ่านมา
The Results After Belotero Revive Injection
---
The results after injections of Beloteto Revive are gradually evident. It has been tested in clinical studies on efficacy and safety after using hyaluronic acid fillers in combination with glycerol. It can be summarized as the following key points:
Skin Hydration: Soft and moisturized skin after the first injection. which improved for up to 9 months
Skin Radiance: Skin redness is reduced and skin glow continues for 9 months
Skin Elasticity & Roughness: Skin elasticity continues from the 2 – 7 months
Skin Firmness: The skin is firm and plump, noticeable from the 2 - 6 months
Belotero Effortless Filler: 4 Colorful Filler For Effortless Beauty
---
Belotero Effortless Filler, also known as 'Colorful Filler' is like a spin-off series of Belotero that combines many features that are ready to revitalize the skin to the core. At the same time, it remains special than ordinary fillers in terms of increasing the smoothness and firmness of the facial skin. Not a lump that reaches all over the face to flow with the concept of beauty without effort through the Belotero Effortless Filler 4 styles to enhance the face to be beautiful in various dimensions.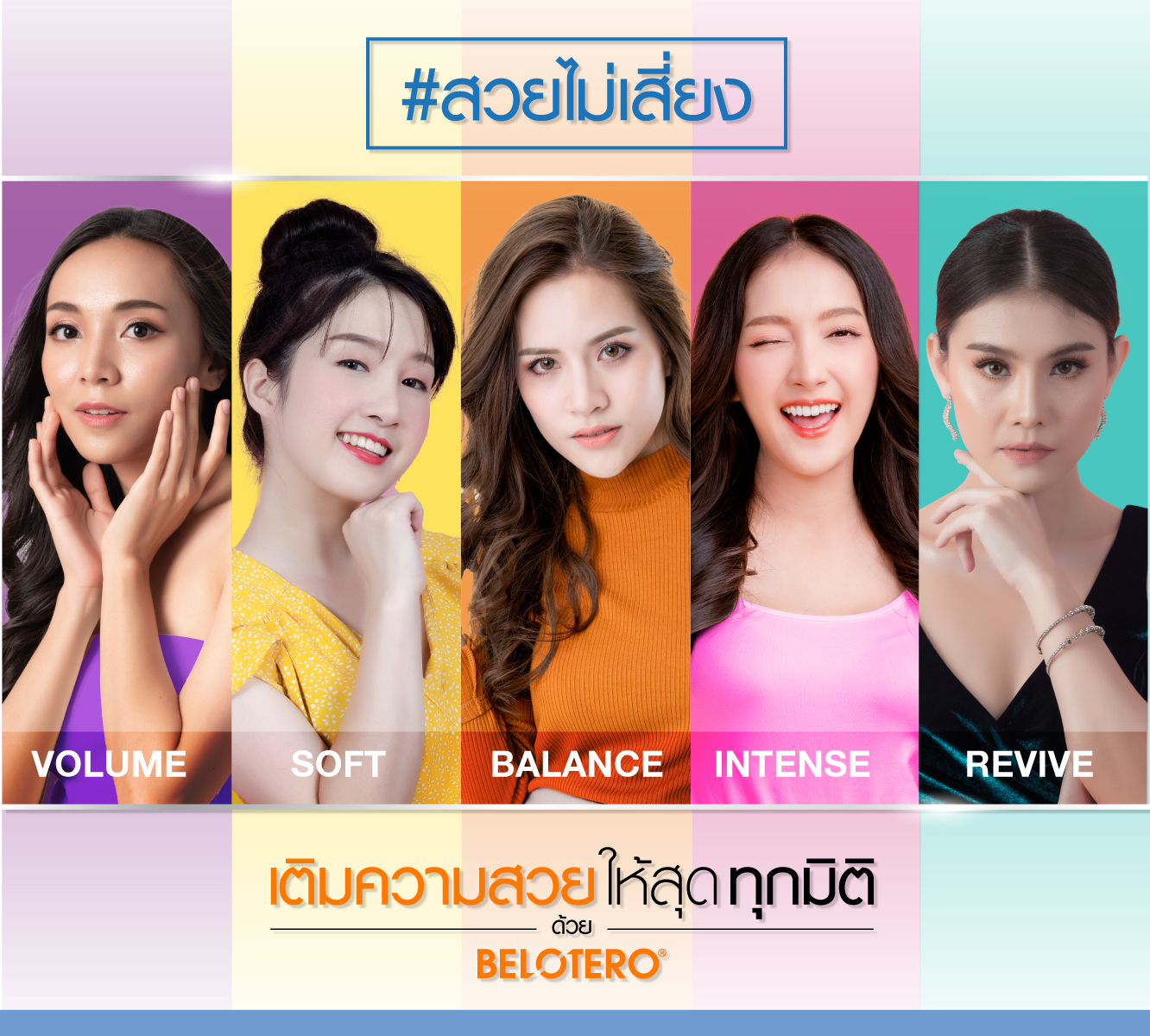 Belotero Soft
HA concentration: 20 mg
Stability period: 6 months

Helps to revitalize facial skin to be smooth and always swallow until makeup is easier with Effortless, lightweight formula with High tissue Integration features to restore luster. Naturally glowing with 16 hourglass pattern injections of filler under the superficial layers of the skin around the cheeks to reduce the appearance of pores to look smaller.

Belotero Balance

HA concentration: 20 mg
Retention period: 10 months

Revitalize your skin to be soft and moisturized to the point of balance with the effortless Balance formula, which has outstanding features that are smooth as one (High Cohesivity) and do not clump. Thus adding dimension to the face and eyes to be fresh, beautiful, smooth, and confident.

Belotero Intense

HA concentration: 25.5 mg
Stability period: 12 months

Belotero, concentrated red box with high elasticity properties Meat doesn't move to unwanted areas. which meets the needs of lifting and tightening the areas that frequently move the face, such as the lips, cheek grooves, and betel nut lines to plump, firm, youthful

Belotero Volume

HA concentration: 26 mg
Retention period: 18 months

Purple box with dense features Add volume to the face to have dimension and stand out by simply adding 3 important points on the face, namely the chin, cheeks, and temples, to fit into the shape and maintain complete naturalness in one.
CPM Technology

---
The main highlight of Belotero Revive with four other colors would not be out of mentioning CPM Technology, a unique innovation that enhances the efficiency of the product to stand out in terms of concentration. Homogeneity, flexibility, viscosity, and formability vary by color.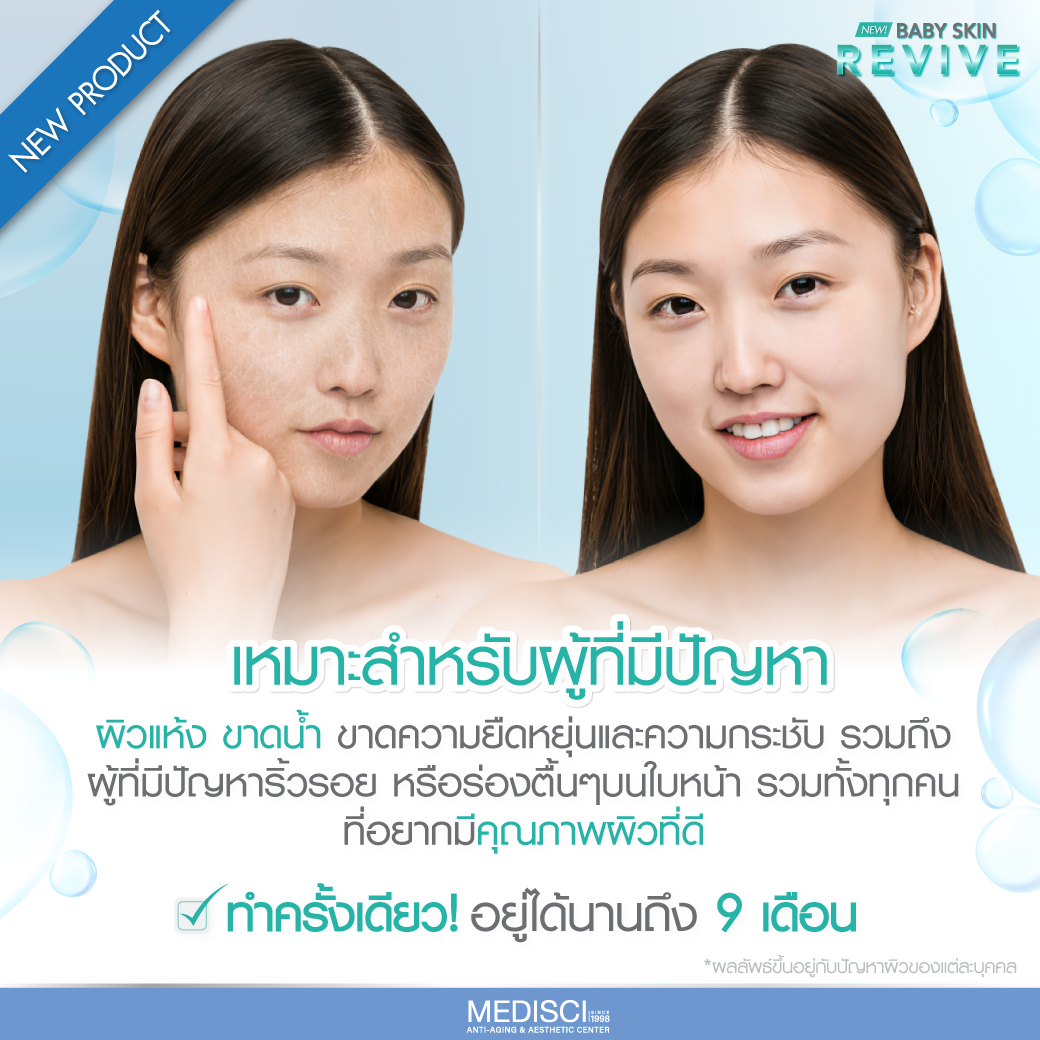 Belotero Set Suitable For:
---
Regardless of which Belotero series is used, one thing they all have in common is that they can solve the problem.
Deep wrinkles not bright under the eyes
Short chin, dimensionless face
Shabby face, thin lips, not well-fitting
Acne scars, sporadic dark spots, or sun-damaged skin.
Contraindications
---
Those who are allergic or prone to keloids or chronic inflammatory granulomas (granulomas).
People with skin inflammation or infection
Pregnant women and children under 18 years of age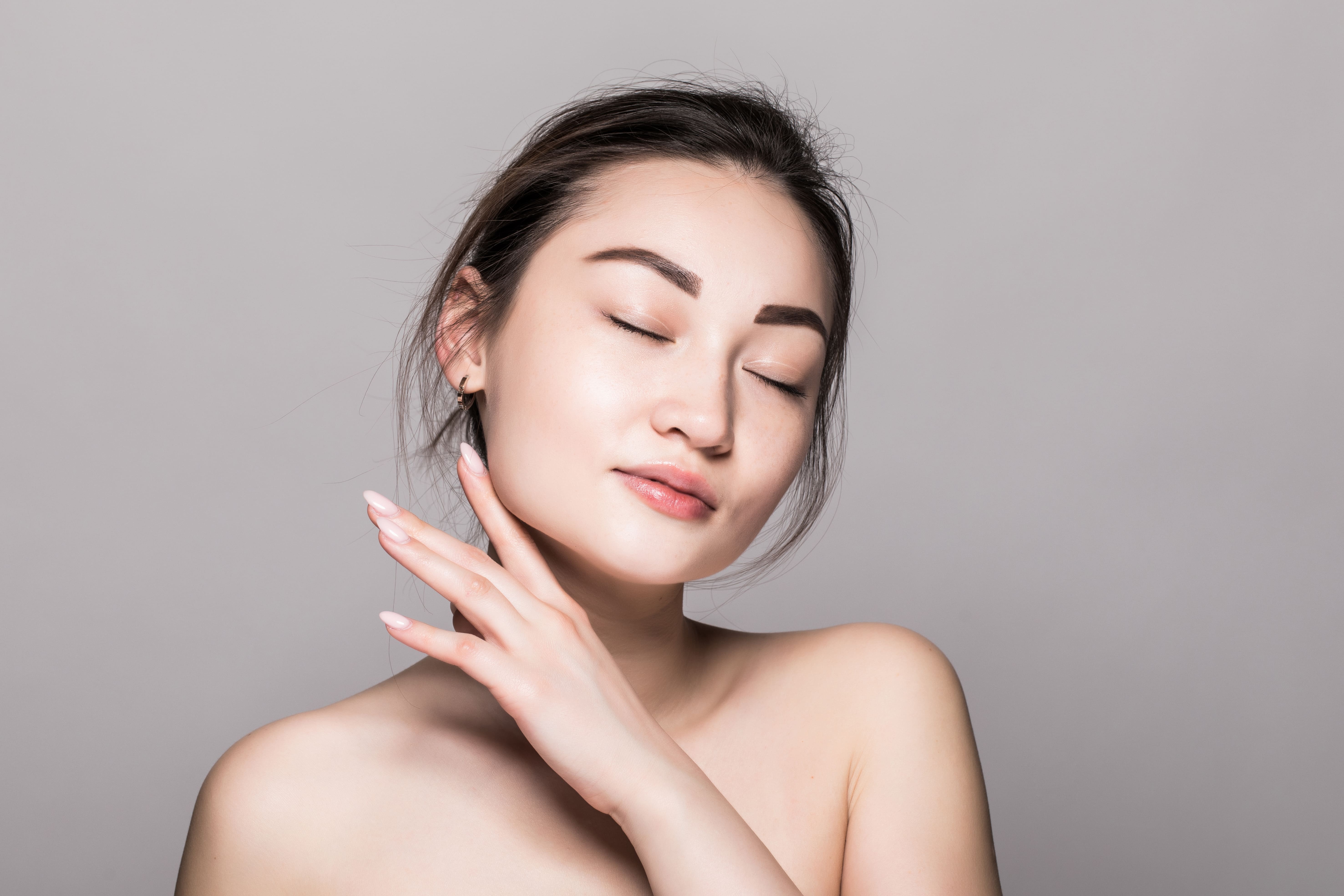 The Preparation Before Treatment
---
Get a consultation from a professional dermatologist to assess your symptoms
If the patient has a congenital disease such as autoimmune disease, diabetes, rheumatoid arthritis or endocarditis Endocarditis should be reported to the physician in order to develop an appropriate treatment plan for the individual
Guidelines after receiving an injection procedure with Belotero Revive and touching, massage, scrub, and makeup after the treatment for 12 hours
Should choose food that is not spicy or salty. Along with drinking enough water and getting enough rest
Abstain from alcoholic beverages for 48 hours
Avoid being in extremely hot or cold places after injection for 2 weeks, such as sauna, onsen, or skiing
See a doctor for close follow-up and assessment
The Practices After Belotero
---
Do not touch, massage, scrub, and makeup after the treatment for 12 hours
Should choose food that is not spicy or salty. Along with drinking enough water and getting enough rest
Abstain from alcoholic beverages for 48 hours
Avoid being in extremely hot or cold places after injection for 2 weeks, such as sauna, onsen, or skiing
See a doctor for close follow-up and assessment
Reference:
https://merzaesthetics.com.sg/belotero/
---