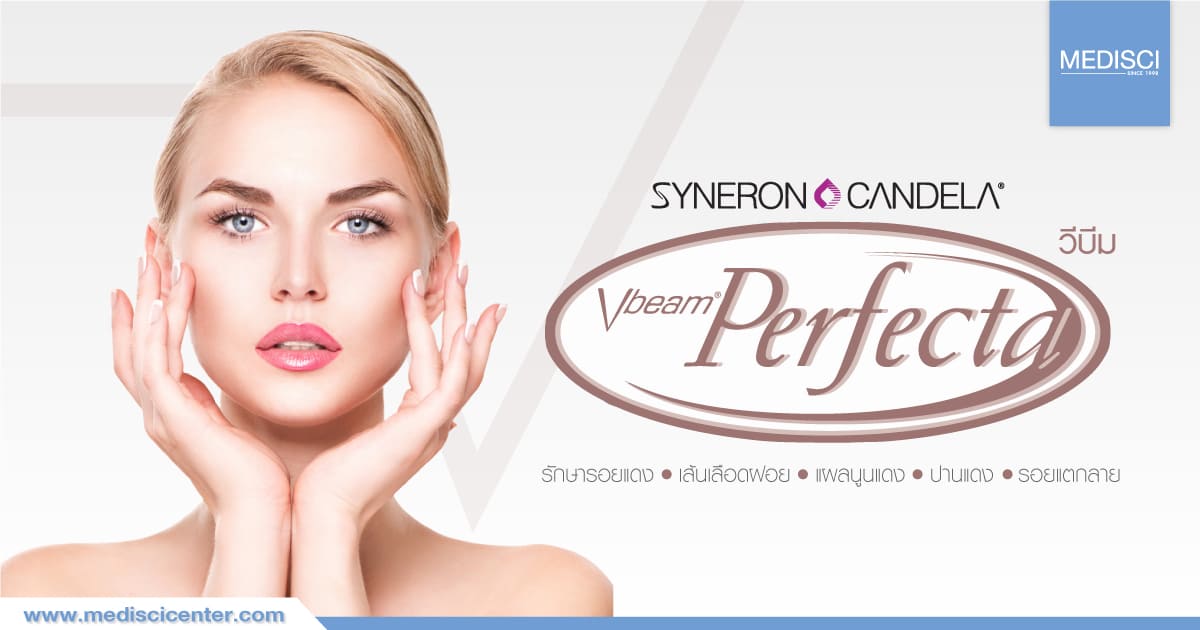 Vbeam perfecta Laser
---
Vbeam is a laser from Candella Company, USA. The laser is gentle to the skin, and it is absorbed very well by red blood cells and melanin pigment in the skin. Therefore, it is able to treat superficial vascular anomalies (maximum depth is 1.5 mm.) on various areas such as facial capillaries telangiectasia, varicose veins, hypertrophic scar, vascular birthmarks, abnormal redness areas, stretch marks, warts, reddish acne scars, redness around the nose, wrinkles, etc. Vbeam can also treat abnormal blood vessels under the skin caused by inflammation by relieving its symptoms down to 75-90% after patients continuously undergo the treatment 3-5 times or follow the treatment plan. This technology has a cooling spray system providing high resolution combined with a powerful laser beam and precise emission timing. Moreover, it is a highly effective treatment operated by the doctor.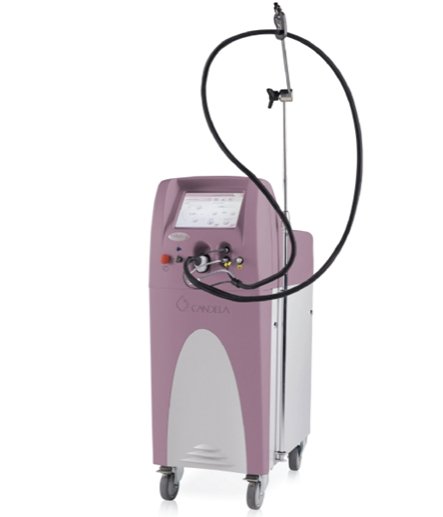 Principle
---
Vbeam perfecta laser, with a wavelength of 595 nm and a bandwidth of 0.45 ms, is a pulsed dye laser (PDL). After emits the energy into the skin, it will be absorbed by the oxyhemoglobin in the red blood cells. Light energy is converted into heat energy, and an optimum level of heat energy causes red blood cell coagulation, so this process can destroy those blood vessels. It also stimulates the production of new blood vessels (New Vascularization), which can nourish the skin, stimulate new collagen production, and strengthen the collagen fibers under the skin. Thus, the laser is able to shrink the large pores, refine the skin, and rejuvenate as well as reyouth the face. While the machine is working, there is a cooling system, patented by Candella Company, protecting the epidermis.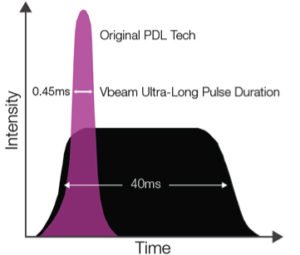 DCD (Dynamic Cooling Device), a cooling technology developed for protecting the epidermis before undergoing every laser shot, causes each laser shot gently effects the epidermis. There will be no redness or black spots after undergoing the laser. In term of timing of spraying, the doctor can adjust according to each patient's condition without causing harm to nearby tissues and the epidermis, so it does not cause wounds and can be used in both children and adults. Moreover, this treatment does not require the use of anesthetic.
Suitable for:
---
People with damaged capillaries in the face or legs.
Leg capillaries
Red spots from acne
Red birthmarks
People with abnormal skin pigments*
Acne vulgaris (Inflamed acne)
Area with abnormal red skin color caused by ruptured capillaries.
New scars
Red and swollen wound
Red stretch marks
Reduce the after the procedure or other bruises.
Warts
People who have sensitive or steroid facial skin
Psoriasis
Depend on the discretion of the doctor.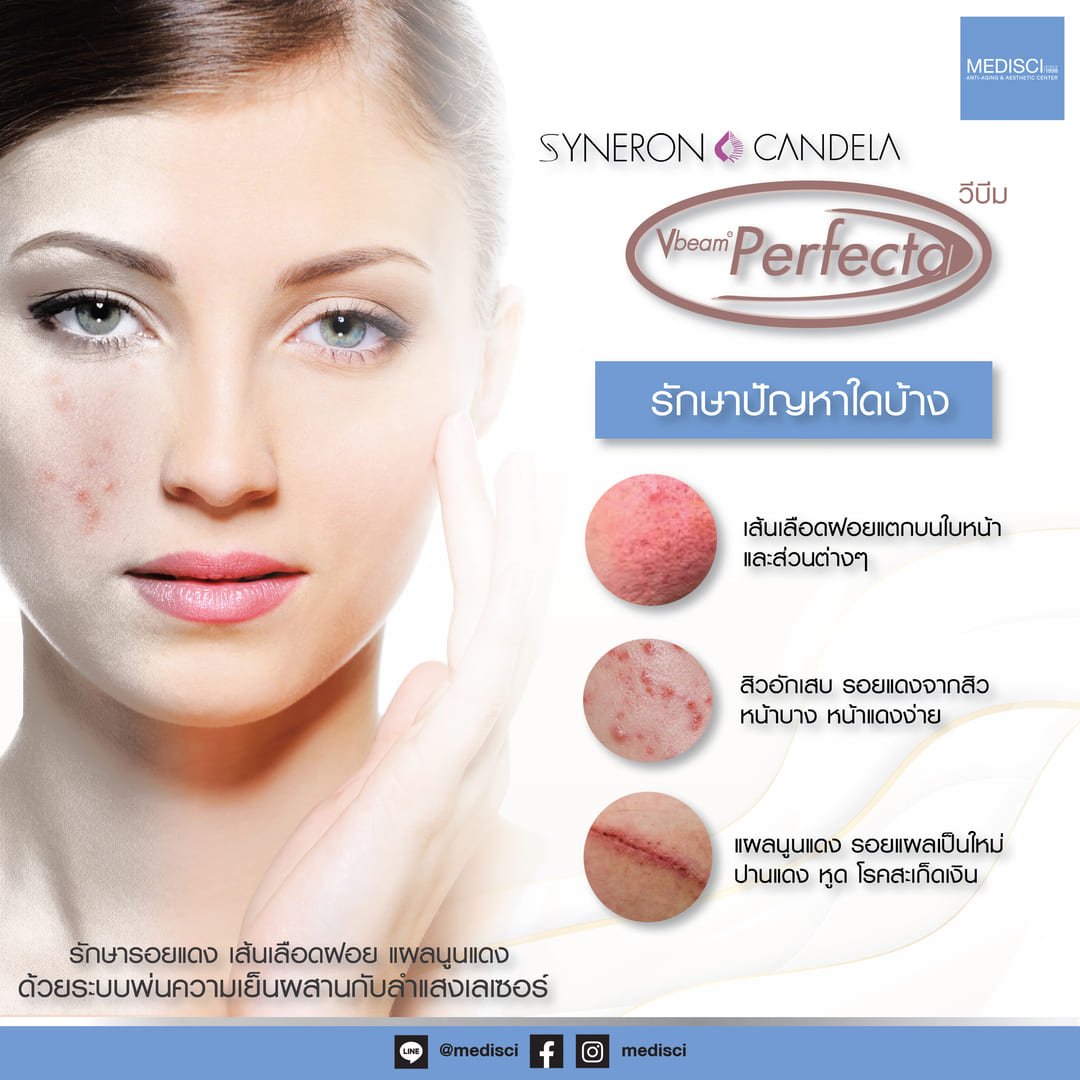 Cautions
---
Should clean the face or the treatment areas and dry those areas before treatment
It is recommended to avoid intense sunlight after treatment for at least 2 weeks
Should not be in extremely hot environments
Should use sunscreen with SPF30 + continuously.
In the case of shooting red spots from acne, the redness will normally appear darker after the treatment, and the redness will gradually fade away after 10-14 days depending on the individual. For shooting red marks, the patients have to retreat every 2-4 weeks until the red marks are completely imperceptible.
In the case of shooting dark spots of tiny freckles, after the laser treatment, the patient can see the freckles will be darkening. Some people may have thin skin flakes for 5-7 days, and the flakes will gradually peel off or will progressively fade away without any blemishes. However, the flakes should peel off by themselves.
Patients who have taken any drugs, herbs, supplements, and vitamins that cause skin sensing to 595 nm wavelength such as Isotretinoin (Accutane) within 6 months prior to laser treatment, tetracyclines or John's Wort within 2 weeks prior to treatment should consult a doctor.
Patients should avoid tanning products at least 2 weeks prior to treatment or depending on the doctor's discretions.
In the area of laser treatment causing wounds or chemical peels should abstain from other treatment for at least 3 months or depending on the physician's discretions.
Depend on the discretion of the doctor
Contraindications
---
Patients with electrical devices e.g. pacemaker or internal defibrillator
Patients with metals in the superficial skin or the treatment area
Pregnancy
Immunocompromised patients such as AIDS or taking immunosuppressive drugs.
Patients with have a history of any diseases that can be stimulated by 595 nm wavelength e.g. SLE, Porphyria, and Epilepsy
Patients who easily bleed or take an anticoagulant drug should be at the discretion of the doctor.
People who have taken any drugs, herbs, supplements, and vitamins that cause skin sensing to 595 nm wavelength such as Isotretinoin (Accutane) within 6 months before having laser treatment, tetracyclines, or John's Wort within 2 weeks (depending on doctor's discretion).
Complied by Research and Development department [ Revised 24/11/59 ]
More info: http://syneron-candela.com/hk/product/vbeam
---
Contact Us For More Details