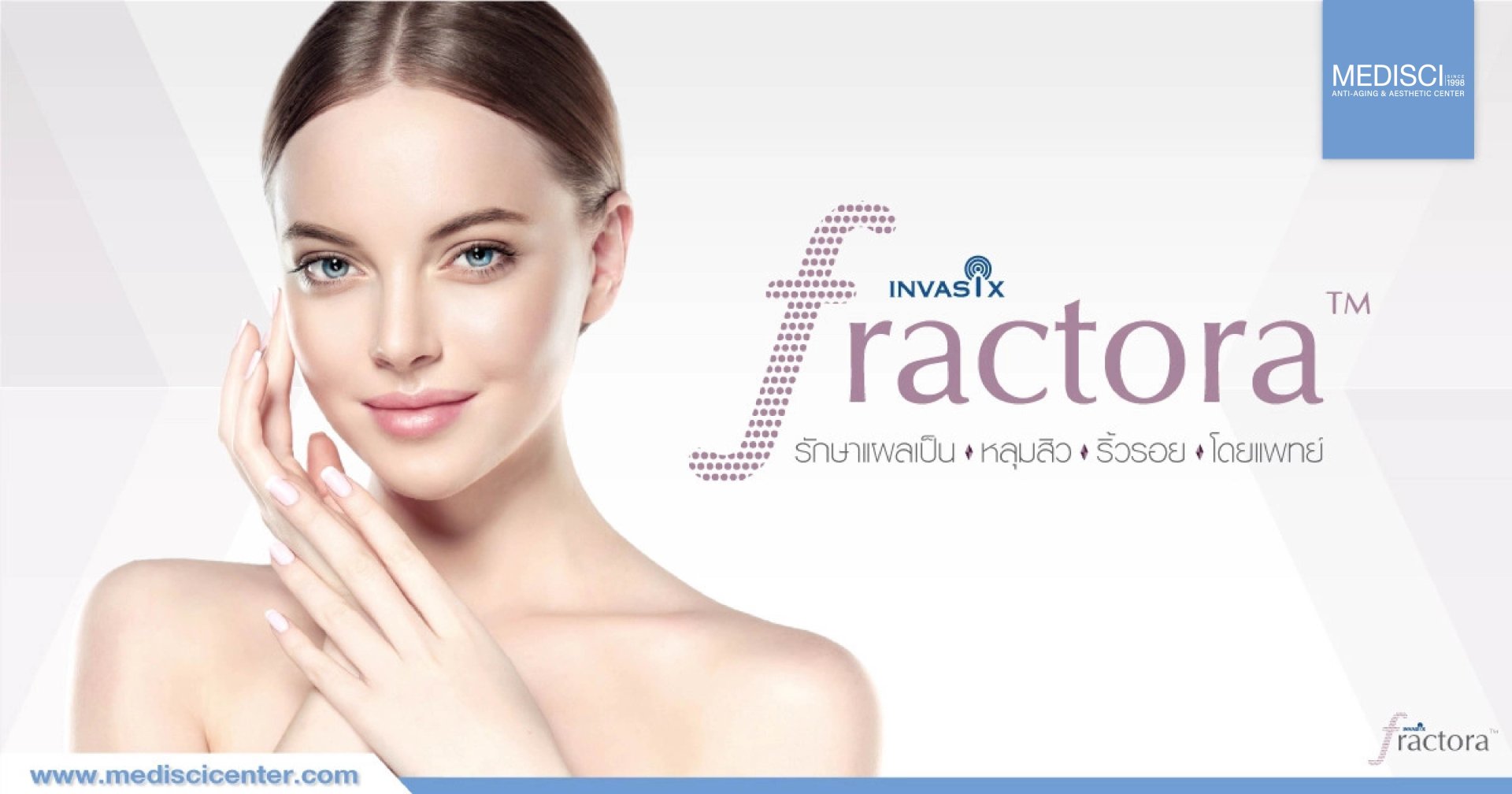 FRACTORA™ Fractional Technology
---
Fractora is treated by a doctor With Fractional radio-frequency, it helps to treat skin structure problems such as acne scars and scars, helping to restore skin tightness. reduce wrinkles of age Restoring the strength of the skin structure from the inside out healthy skin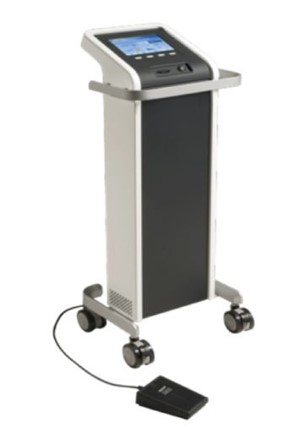 Working principle
---
It is a technology in the group that uses radio frequency energy. (Radiofrequency) at a frequency of 1 MHz. The principle of operation is the release of heat energy (temperature 40-100 degrees) from the bipolar radio frequency energy transmitted through the needles through the small pins (Pins) under the skin. Fractional dermis causes 3 processes at the same time, namely the ablation process and the coagulation process. (Coagulation) and the process of sub-necrotic heating (Sub-necrotic heating) of the skin, causing the process of exfoliating the top layer of skin with a wound. and still stimulates the creation of new collagen fibers and makes the arrangement of the original collagen better Make sagging skin firmer and wrinkles fade including scars and acne scars
And at the end of each small pin (Pins) there is a power value controller (Feedback Control) to control the temperature according to the location of the power value to be equal in every book. This allows the doctor to control the energy released into the skin as needed. Where the machine Fractora will have a screen showing the settings to be clearly visible.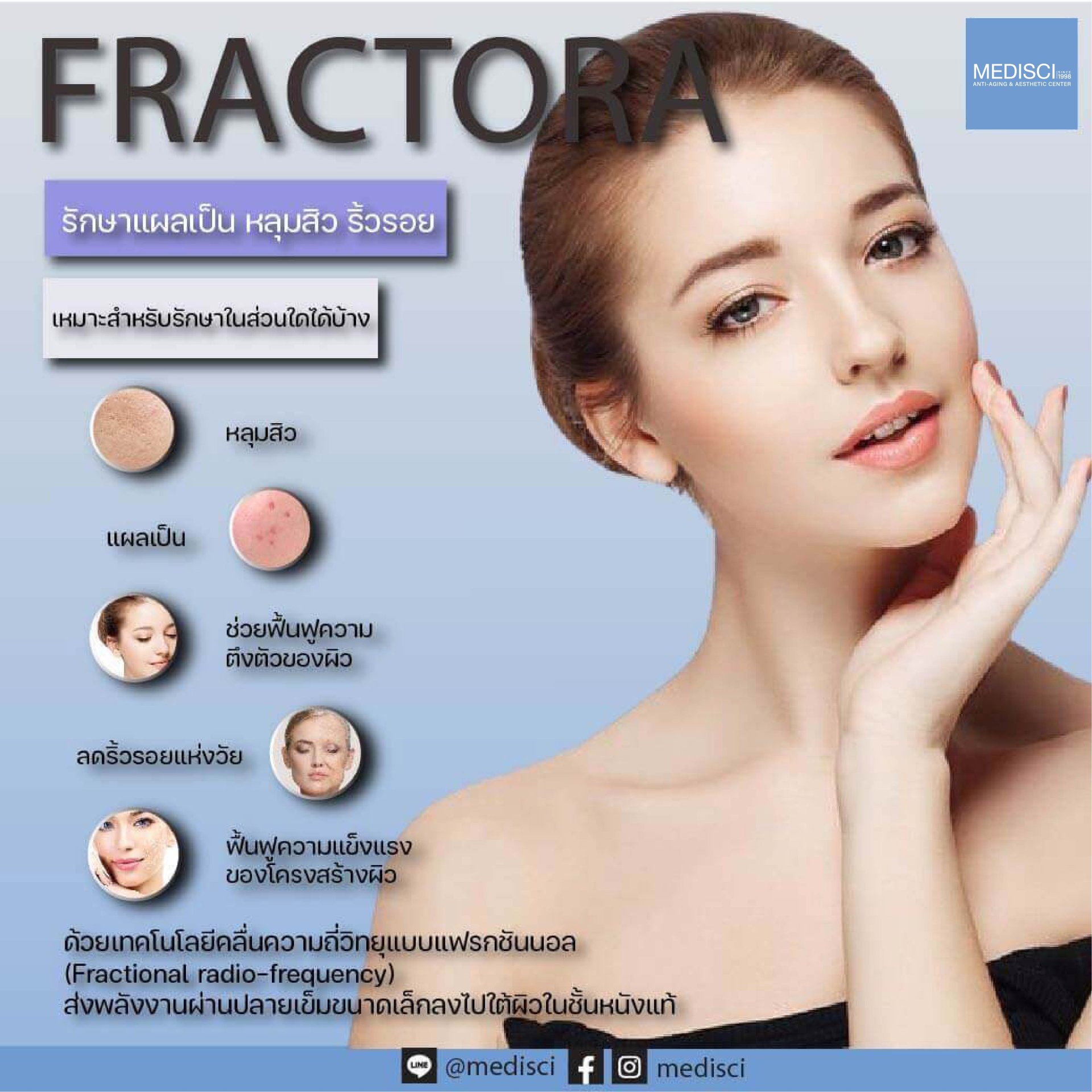 Suitable For
---
It is used to treat wrinkles.
scar
acne scars
Superficial spider, telangiectasias and skin texture abnormalities
Possible side effects
Patients need to understand the importance of advice before and after treatment. and the feeling during the thorough treatment to have a common understanding
Side effects Erythema (redness) less than 24 hours Swelling 2-3 days Red spots may appear 1 - 3 days after treatment Day 4 after treatment, fine flakes may appear which will peel off. within 1-3 weeks
Some swelling may last for a few weeks.
Skin soreness or discomfort may last for 1 to 2 hours.
Small scabs may remain on the treated skin approximately 7 - 10 days after the treatment.
Swelling may persist for 1 to 3 weeks with Tumescent.
The resurfacing process varies from person to person.
The lifting effect after the reorganization of collagen is most effective after 6 - 12 weeks of treatment.
Contraindications and precautions for use
---
This should be at the discretion of the physician
Patients with a pacemaker such as a Pacemaker or an internal defibrillator. or any electronic device in the body
People who have surgery to insert metals such as metal plates, screws or silicon into their bodies.
who performs the injection procedure This should be at the discretion of the physician.
Patients with skin cancer or a history of melanoma or Pre-malignant moles
Patients with chronic diseases such as heart disease
Patients who are pregnant or breast-feeding
Patients with immunodeficiency conditions such as HIV
Patients with conditions that can be triggered by heat, such as herpes simplex, may require prophylactic medications.
People with diabetes who cannot control their sugar levels.
Patients with active skin conditions such as pressure ulcers, psoriasis, rashes, eczema
Patients with a history of skin disorders such as keloids, skin repair disorders People with very dry skin and thin skin
Patients with abnormal blood clotting or if anticoagulants are being used, the drug must be discontinued 10 days prior to treatment.
Patients who had surgery on the face less than 1 year before treatment
Patients who had facial dermabrasion, Facial resurfacing or Deep chemical peeling less than 3 months prior to treatment.
Patients who have received IPL Laser and RF therapy should be spaced at least 6 weeks prior to treatment.
Patients taking Isotretinoin should discontinue the drug at least 6 months prior to treatment.
Patients taking NSAIDs such as ibuprofen should discontinue the drug at least 1 week before and after treatment.
Do not treat the tattoo area. or the tattooed area of ​​eyebrows, eye circles, lips permanently
Do not treat the edge of the hairline.
Patients with Skin type VI and patients with tan from sunbathing. Use tanning drugs and tanning beds should be spaced approximately 2 weeks prior to treatment.
Find out more at:
http://www.invasix.com/fractora_7/

---
Contact Us For More Details