With the quality for increasing skin rejuvenation booster for many skin types, Colorful Filler is like Belotero Revive's spin-off series. It remains special than ordinary fillers in terms of increasing the smoothness and firmness of the facial skin. Not a lump that reaches all over the face to flow with the concept of beauty without effort through 4 styles of Effortless Filler to enhance the face to be beautiful in various dimensions.
CPM Technology
---
The common point, no matter which color Belotero has in common, is probably not out of CPM Technology, a unique innovation from MERZ Aesthetics that enhances the efficiency of the product to be outstanding in terms of concentration. Homogeneity, flexibility, viscosity, and formability vary by color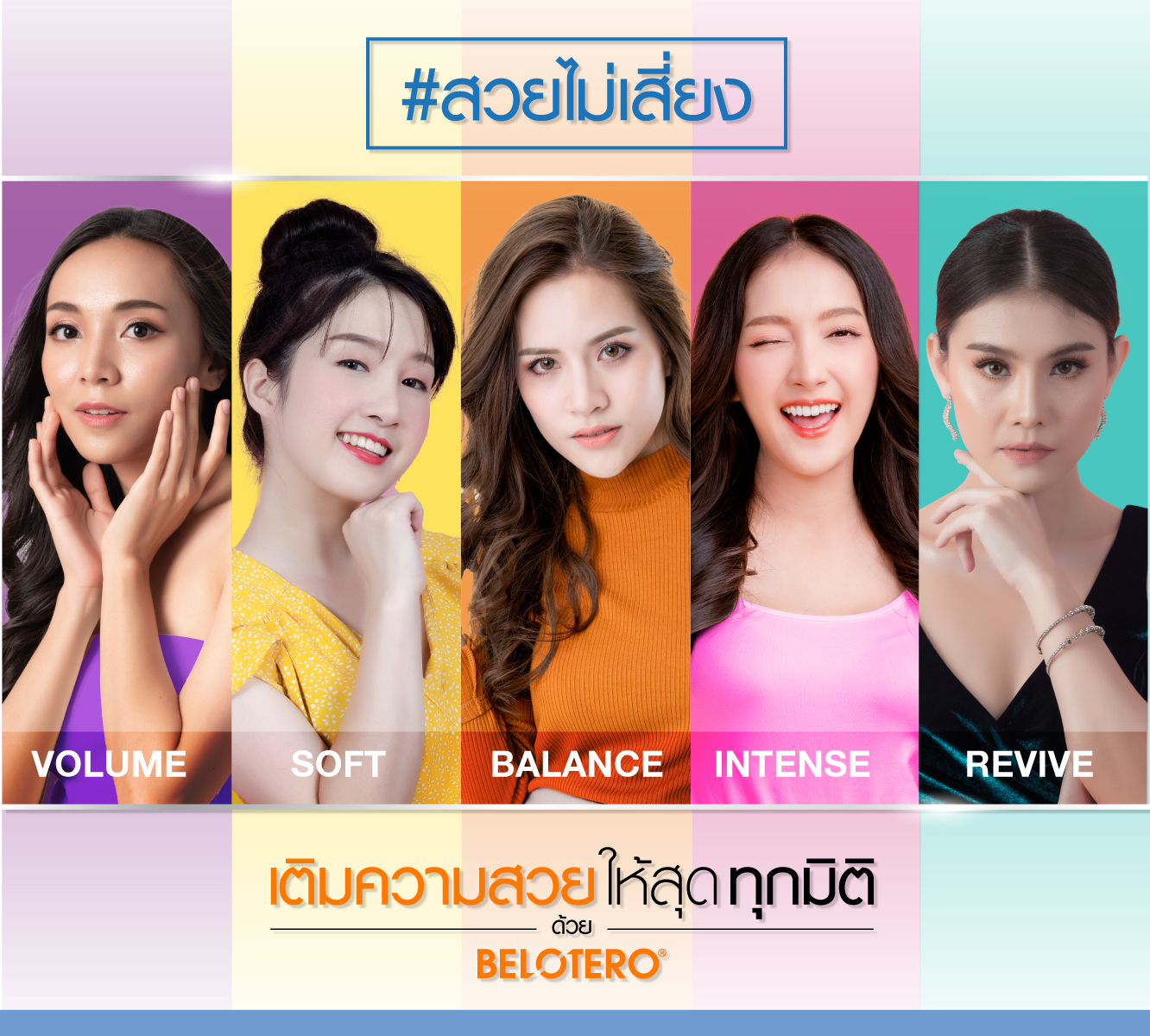 Belotero Soft
HA concentration: 20 mg
Stability period: 6 months
Helps to revitalize facial skin to be smooth and always swallow until makeup is easier with Effortless, lightweight formula with High tissue Integration features to restore luster. Naturally glowing with 16 hourglass pattern injections of filler under the superficial layers of the skin around the cheeks to reduce the appearance of pores to look smaller
Belotero Balance
HA concentration: 20 mg
Retention period: 10 months

Revitalize your skin to be soft and moisturized to the point of balance with the Effortless Balance formula, which has outstanding features that are smooth as one (High Cohesivity) and do not clump. Thus adding dimension to the face and eyes to be fresh, beautiful, smooth, and confident.
Belotero Intense
HA concentration: 25.5 mg
Stability period: 12 months
Belotero, concentrated red box with high elasticity properties Meat doesn't move to unwanted areas. which meets the needs of lifting and tightening the areas that frequently move the face, such as the lips, cheek grooves, and betel nut lines to plump, firm, youthful
Belotero Volume

HA concentration: 26 mg
Retention period: 18 months
Purple box with dense features Add volume to the face to have dimension and stand out by simply adding 3 important points on the face, namely the chin, cheeks, and temples to fit into the shape and maintain complete naturalness in one
---