Acne Scars, blemishes, and freckles are classic problem that bothers quite a bit. Many people get nervous when meeting people from outside their homes. Some don't know how to prepare to look good for special occasions. However, the latest innovative technology like the Discovery Pico Laser, which has been developed by leaps and bounds over the past few years, maybe your confidence booster.
Many people who suffer from wounds on the face that cannot be healed. Or are deciding to do laser treatment, but… Afraid to get hurt Medisci The clinic will take you in-depth with the 'Discovery Pico Laser' and answer questions about skin problems, acne, blemishes, and freckles. Including how to prepare and take care of yourself before and after receiving the treatment. First of all, we should know the basic thing called 'Pico Laser'.
What is Pico Laser?
---
Pico Laser, also known in the medical community as Picosecond Laser, is a modern laser technology that emits pico-level speed waves 10-12 seconds to the target point to disintegrate into fine dots. Which can effectively restore the skin in a shorter recovery period and is less painful than traditional lasers. Picosecond Laser is known for many types. However, there are 4 types that are widely used, each with different abilities.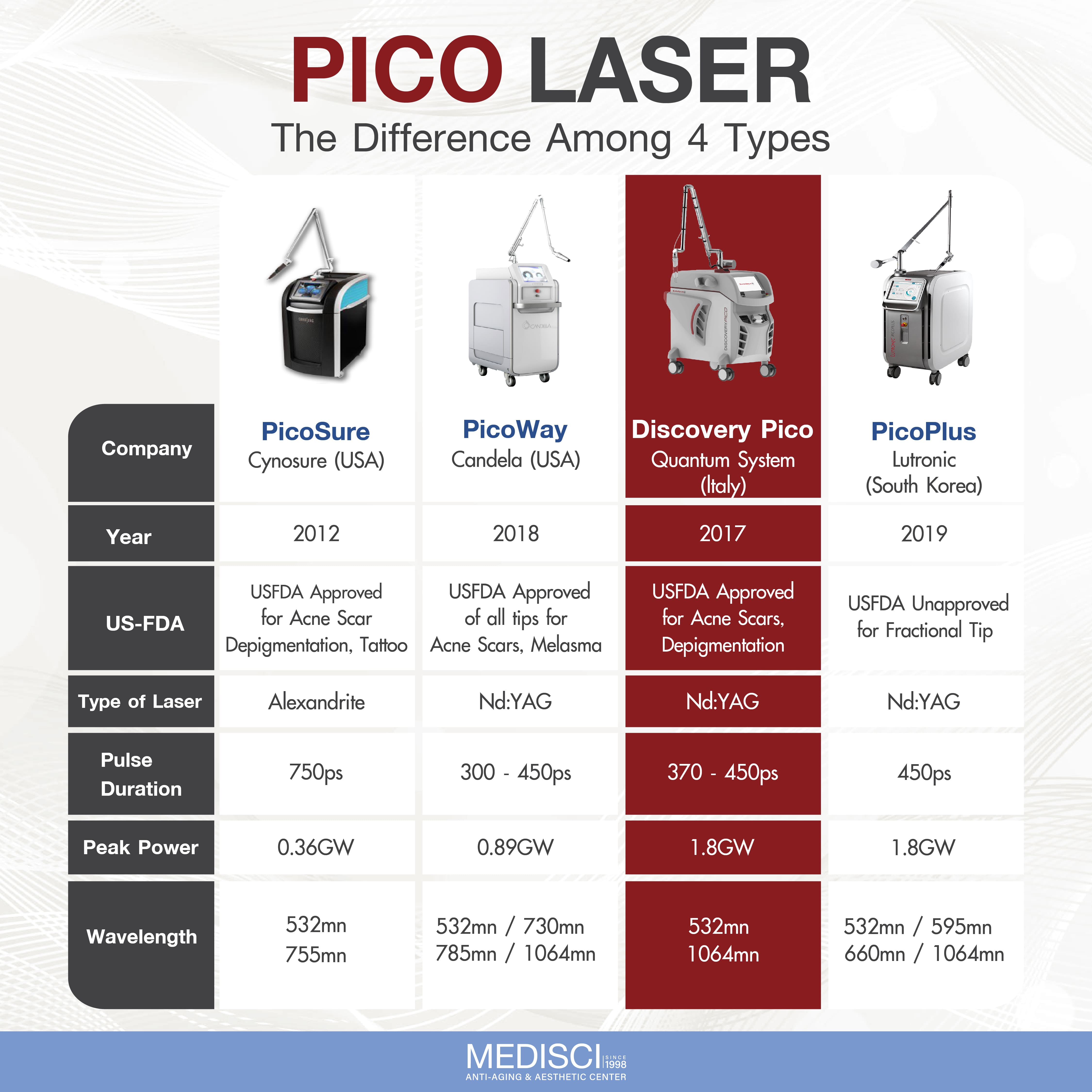 Types of Pico Laser
---
PicoSure: A laser innovation from Cynosure Inc., USA that focuses on solving dark circles, blemishes, freckles, and dark spots to fade.
PicoPlus: Powerful technology from South Korea. which combines the form of Laser Fractional and Laser Q-switched to help reduce wrinkles and stretch marks and adjust the shade of dull skin to be bright and white
PicoWay: A highly effective laser device from Candela Corporation for the treatment of common skin problems. It also uses Functional laser technology to stimulate collagen to make the skin elastic and strong.
Pico Discovery: Picosecond Laser technology from

Quanta System

, Italy, covering a wide range of facial and body skin disorders.
Dicovery Pico laser
---
DISCOVERY PICO Series is the first "second generation" picosecond Nd: YAG laser for tattoo removal, pigmented lesions and skin resurfacing/rejuvenation treatments. This laser series includes up to two wavelengths, 532 nm – 1064 nm, high peak power, and up to four emission modes to combine maximum operating performances with the widest range of treatments.
With this effective performance, Discovery Pico laser series has won the top prize from The Aesthetic Industry Awards as Aesthetic Winner 2017 and many others.
Working Principle
---
The DISCOVERY PICO Series generates a pure photoacoustic effect to shatter inks and pigmentations leaving the surrounding tissues unharmed. This picosecond laser, thanks to its shorter pulse durations and high peak power can effectively pulverize even the deepest skin pigments and large spots.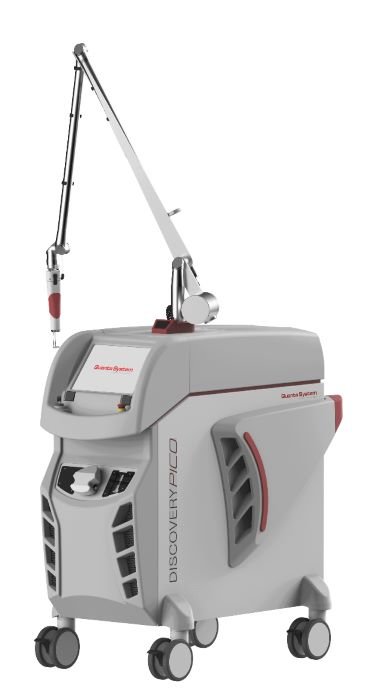 2 Types of OptibeamII Handpiece
---
Round Flat-top Handpieces: are designed to be adjusted to pigmented lesions and are perfect for facial treatments.
Fractional Handpiece: is perfect for skin resurfacing and rejuvenation with a very short recovery time and high safety levels.
Who is Suitable?
---
Because Discovery Pico Laser is a medical technology that can effectively eliminate various skin problems in a short period of time. The use of such skin laser treatment is suitable for those who want it.

Remove both monochromatic and multicolored tattoos.
Fade blemishes, freckles, wrinkles, and uneven skin tone to balance.
Adjust the acne hole (Acne Scar) to be smooth.
Post Treatment & Any Side Effects
---
PICO toning by DiscoveryPICO is safe as it works on a specific wavelength to target the pigmentation selectively, leaving the surrounding areas undamaged. After the treatment, the area may turn red and swell. However, it will subside in several hours. The laser machine has a unique feature, whereby the photothermal effect enables collagen rebuilding, making the skin brighter and firmer.

We will sometimes see small areas of pin-point bleeding and occasionally small blisters may form. The treated area may itch for several weeks after treatment and your skin may feel dry and flaky. Apply cold air or an ice pack to soothe the treated area and antibiotic ointment to avoid possible inflammation. You can use a fragrance-free, perfume-free moisturizer cream on the area.
You should also have sunscreen protection on the treated area during the period. It is best recommended to leave your skin without any make-up for a few days. Some ingredients in the cosmetics may clog your pores, and not allow your skin to breathe or heal properly over time.
---