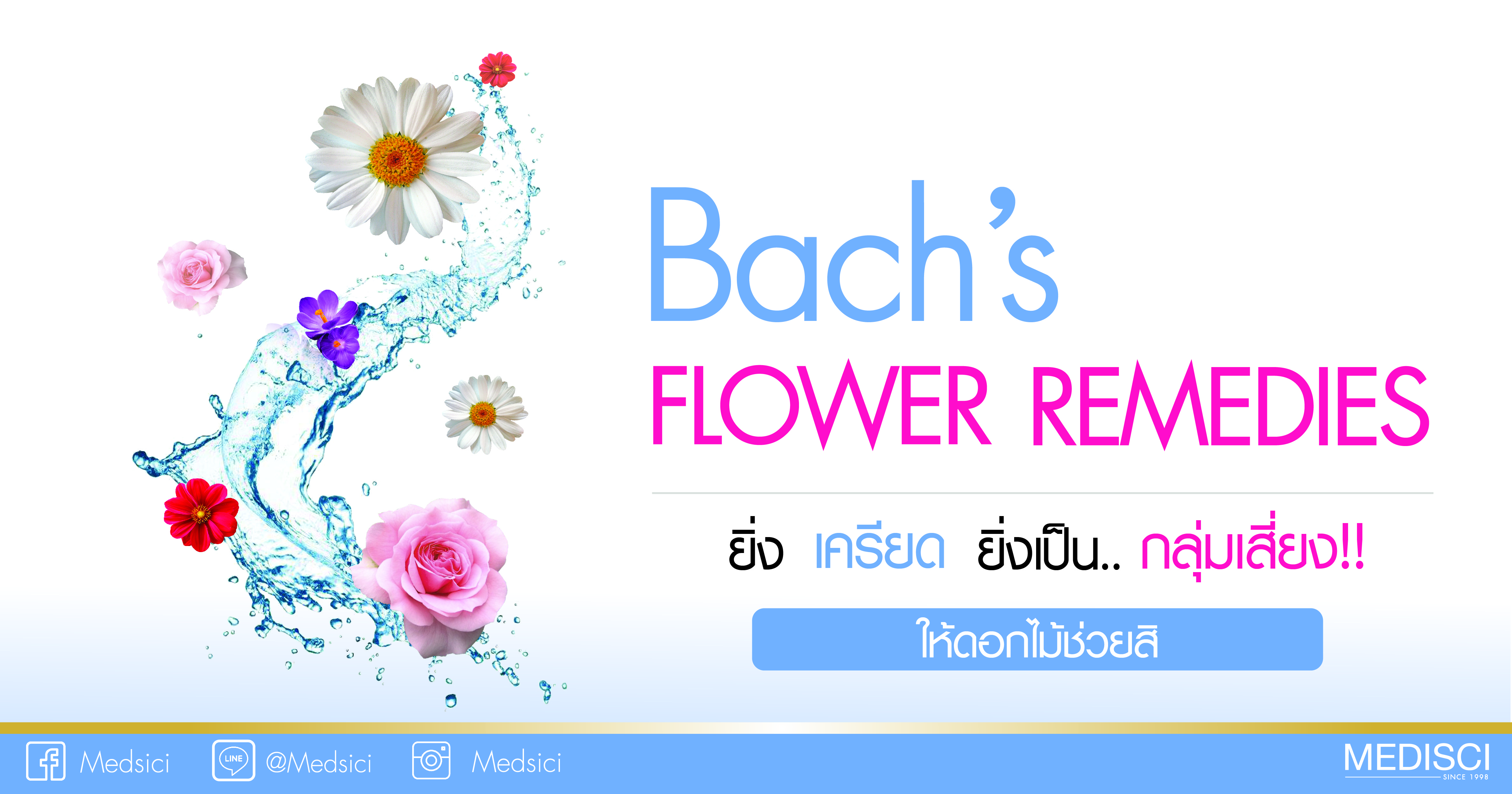 There is no beautiful rose without thorns, not only fragrant, but also has a hidden power that miraculously dispels the stress that shields people's lives, 'The Calming Power of Flower' is given to all the flowers through the method of healing, such as Bach's Flower Remedies, which is famous and widely used throughout the world until now
When the world changes faster than ever, people start to adjust in time. Stress will inevitably as follow and the longer it goes on, the more it affects physical and mental health until the body begins to wither and fade away prematurely.
Many times people turn to taking chemical drugs as an alternative, but there are limits to the side effects. Bach's Flower Remedies may be the perfect solution for boosting your immune system and eliminating stress that's like a cloud
'Stress' Can Weaken The Immune System
---
There have been many studies over the past decades that address the fact that stress has a profound effect on health, especially the immune system. According to the study in 1982, which studied the immune system status of college students during exams. Immune systems were found to have progressively worsened as those students had very small amounts of Natural Killer Cells, the fight viruses and tumors. In addition, Gamma Interferon and T-cells are not created to fight infection.
Since the 1980s and for now on, more than 300 studies have looked at the relation between stress and health systems. The longer you are stressed, the immune system is getting worse. if these things happen to elderly who have a congenital disease or have a weak body together, resulting in severe deterioration recovering from wounds is more difficult than befor
Homeopathy
---
Homeopathy is the science of natural medicine, using natural substances to stimulate the body to restore and relieve illness on its own. In addition, treatment science has been developed to be in line with modern medical knowledge, resulting in a new treatment method called Natural medicine combined with PRM (Physiological Regulating Medicine) that is considered a new option to enhance the treatment of various diseases, providing effective treatment results and no side effects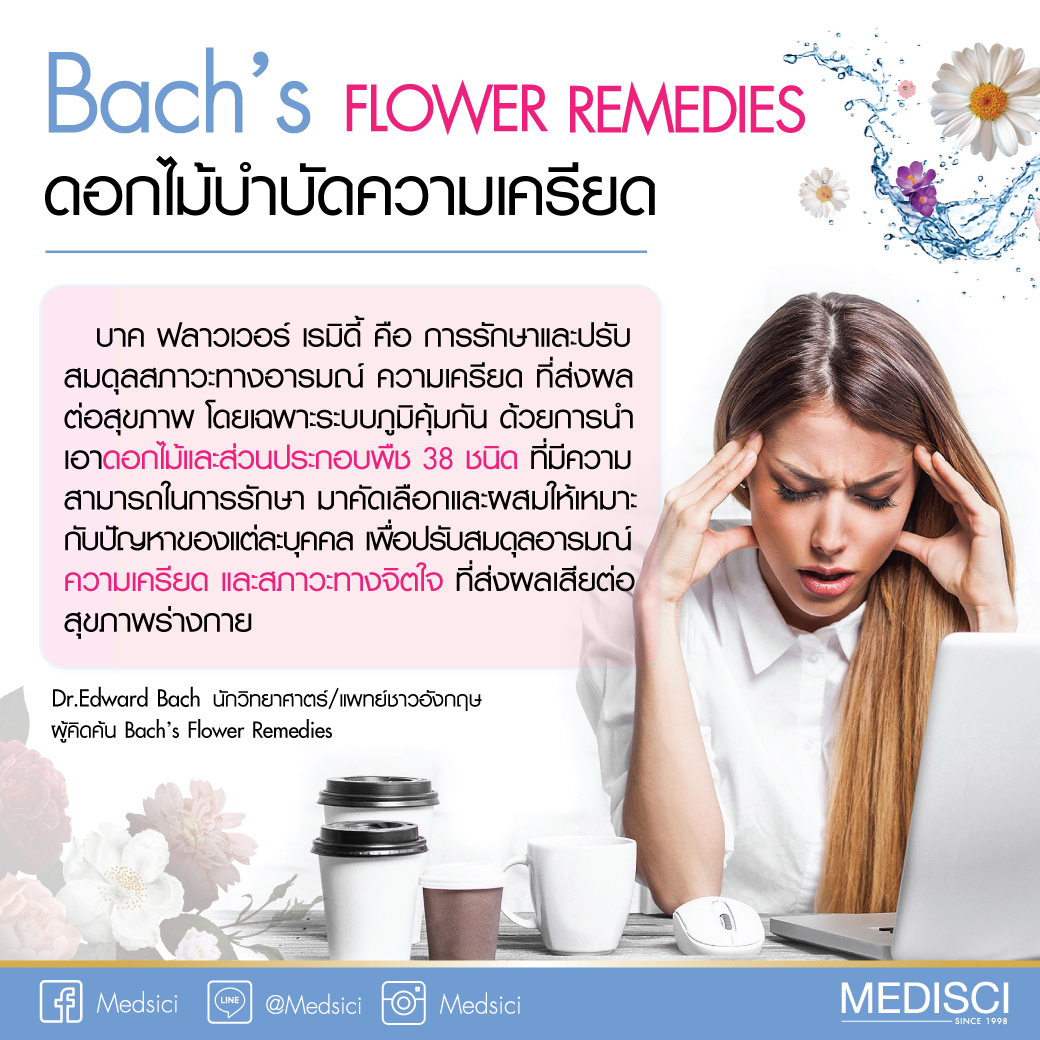 Bach's Flower Remedies
---
Bach's Flower Remedies (BFRs) are a type of naturopathic treatment developed by Dr. Ed Bach, a physician, pathologist, and bacteriologist (Bacteriologist) and naturalist from England by focusing on maintaining emotional balance through the use of over 38 types of flowers and plant ingredients that have been selected before being prepared. Flower Remedies are suitable for a person's emotional state, with 7 major negative emotions
Fear
Uncertainty
Not Sufficient in present circumstances
Feeling of loneliness
Feeling especially sensitive (Over-sensitivity to influences and Ideas)
Feeling of hopelessness (Despair)
Over-care for the welfare of others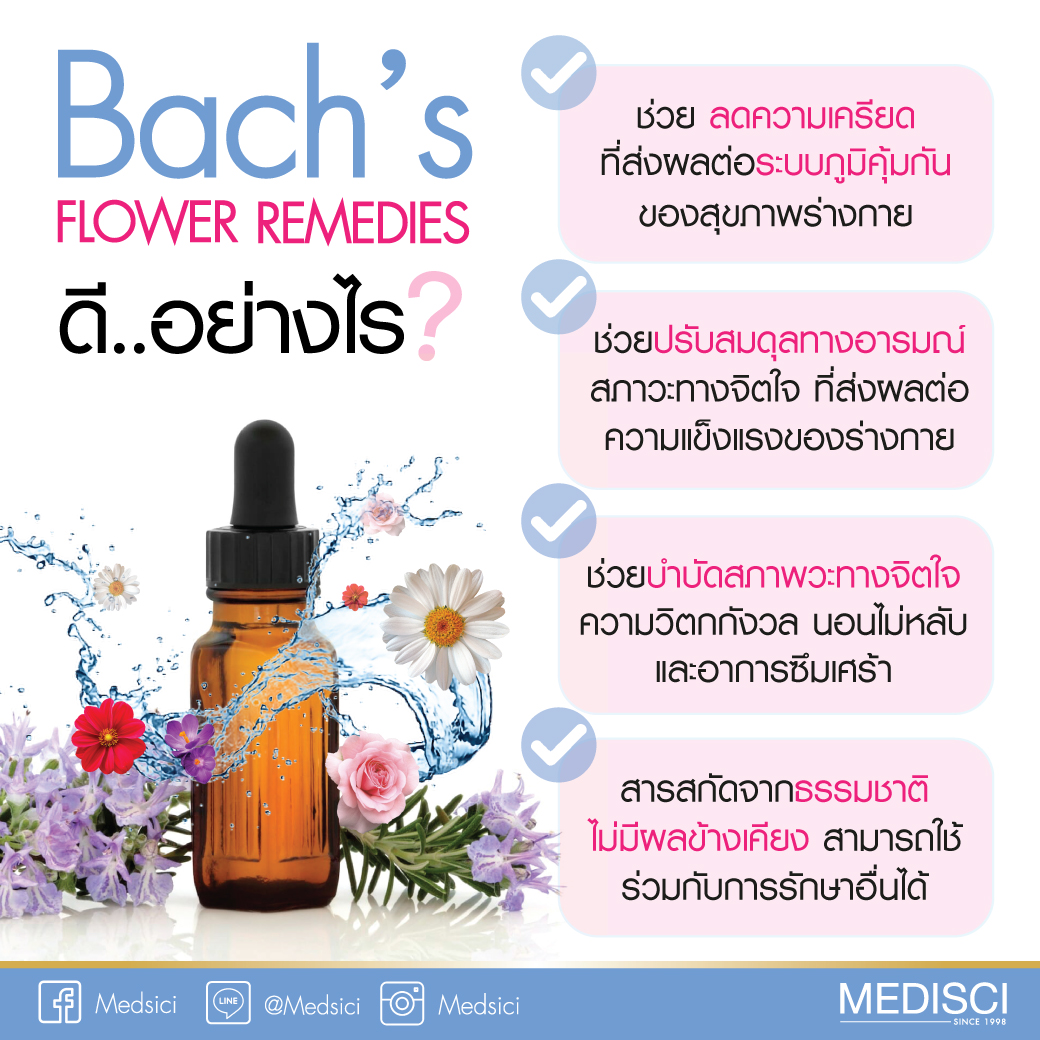 How good is Bach's Flower Remedies?
---
Because Bach's Flower Remedies are natural body and mind treatments that are not chemically active, there is no accumulation, suppressing symptoms until they cause side effects later. It is also used in combination with other forms of treatment, both mainstream and alternative medicine without interfering with treatment until it became what many doctors called 'Truly Complementary Medicine'
Treatment
Bach's Flower Remedies can alleviate a number of health problems, including:
Relieve stress which affects the immune system
Balancing other emotional states that affect the overall system of the body.
Released from anxiety Insomnia and depression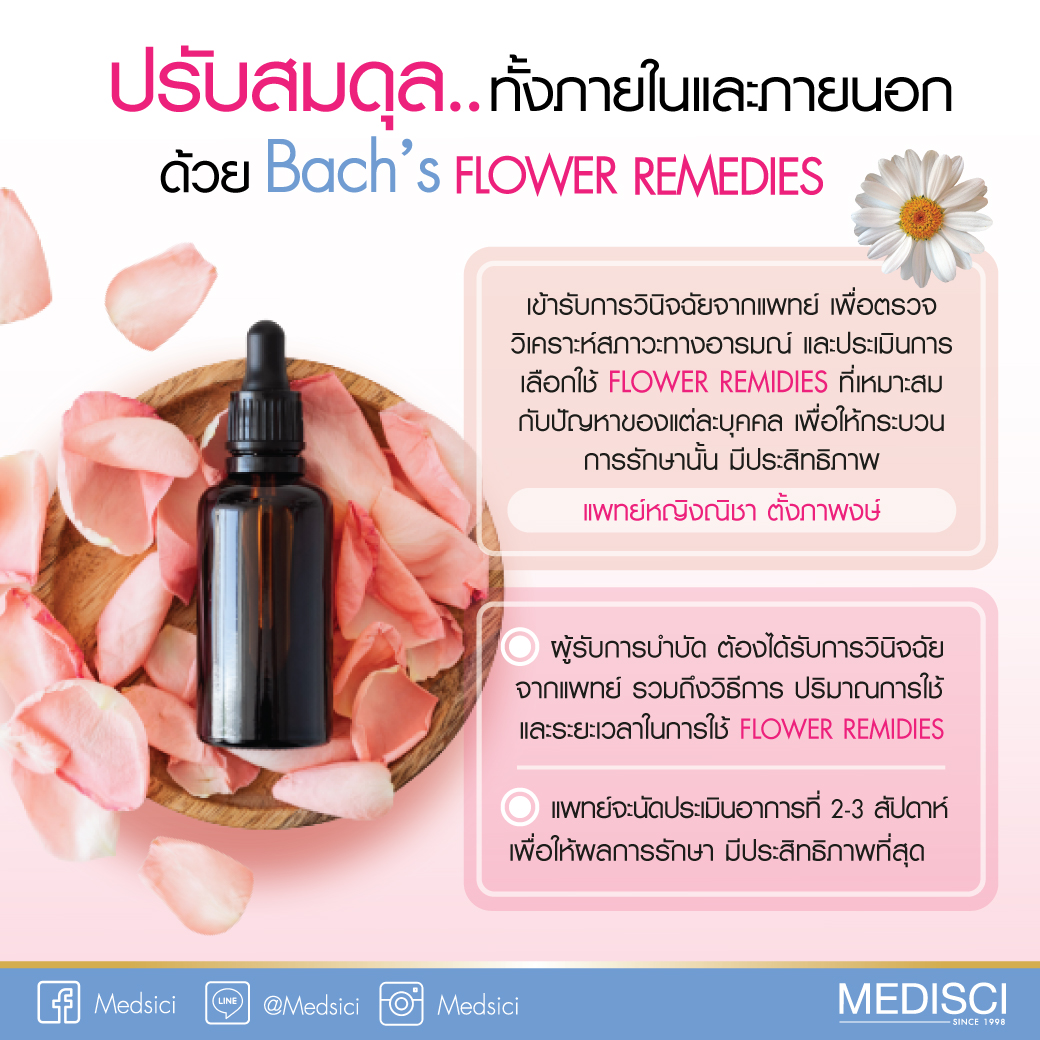 Treatment with Bach's Flower Remedies
---
When receiving consultation and diagnosis from a doctor or a therapist to analyze the emotional state until completion The doctor will start using Flower Remedies in a mixed proportion (Combination) method and time appropriate for the person. Which will result in slow or fast treatment depending on the physical and mental condition at the past time If the patient has just been under stress for a long time able to recover mentally better than those with unstable mood or chronic stress
However, the doctor will start an appointment 2-3 weeks after receiving Bach's Flower Remedies for the most effective and sustainable results under the supervision of Dr. Nicha Tangpapong, a specialist in integrative medicine together with natural therapy (Homeopathy) and flower therapy (Flower Essence) for more than 15 years
---