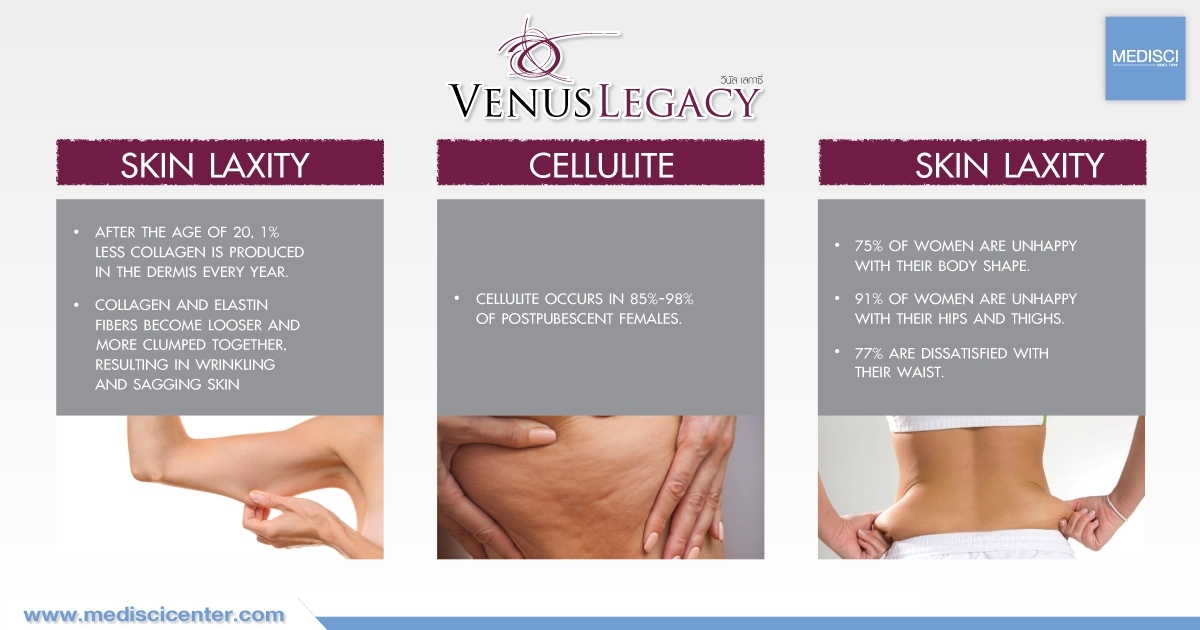 Venus Legacy
Venus Legacy is a medical device from VenusConcept, Canada. Venus legacy for body contouring, cellulite reduction, skin tightening, winkle reduction. It also increases firmness and smoothness and stimulate blood circulation. It provides your healthy skin. Venus Legacy technology (4D ™ Venus Legacy ™), safe treatment, pain-free and superior outcomes, The indication to use under supervision of a doctor.
Principle
Venus legacy machine uses 4D™ technology that combines four technologies. Firstly, Multi-Polar Radio Frequency (RF) technology with a frequency of 1MHz, delivering heat energy with temperature in the 46-50 degrees, penetrates into tissues with a dept of 3.75 centimeters up to the adipose layer. Next, Pulsed Electro Magnetic Fields(PEME), has been used in traditional medicine for decades to help regenerate cells. Moreover, VariPulse technology adjustable pulse suction timing for deep energy of penetration. Gentle massage stimulates the circulation of the lymph nodes and stimulate circulation. Lastly, Real Time Thermal Feedback is able to show visual feedback grap and integrated hand free thermometer that can be seen on the screen.

This figure shows the heat energy into the subcutaneous layer with temperature range of 46-50 degrees, reducing the size of the subcutaneous layer and treating the superficial layer.
With the synergy of the four unique Venus Legacy technologies that can deliver heat energy into the skin quickly, it operates the heat into the skin and hypodermis with the temperature of 46-50 degrees causing the shrinkage of collagen. It also vibrates the adipocytes until fatty acids are released in the liquid form, which causes a reduction in the thickness of the fat layer, rearrangement of the skin structure and tightening of the skin. This treatment can be used in both face and body.
Indication:
1.Reduce cellulite
2. Reduce wrinkles
3. Reduce the size of the circumference
4.Tighten the skin
5. Reduce stretch marks
6. Excrete wastes and stimulate blood circulation.
Contraindications
1. Inflammation or infection on the treatment areas
2. Have potential to be cancer or have cancerous cells on the treatment areas
3. Neurological degeneration
4. Heat intolerance on the treatment areas e.g. herpes
5. Peacemaker implantation
6. Metal device implantation on the treatment area except dental restorations
7. Uncontrolled Thyroid disorders
8. Varicose veins
9. Pregnancy or IV fluids therapy
10. Skin disorder related to autoimmune diseases.
11. Injection or silicone implantation on the treatment areas
12. Depend on doctor recommend
Patients who should consult with the doctor before treatment
1. Botox injections on the treatment area (avoid the Botox injection at least 1 month before the treatment)
2. Breastfeeding women
3. Epilepsy
4. Laser treatment and chemical peeling within 1 month before the treatment
5. Scars, wounds, or recent abrasions on the treatment area.
6. Abnormal capillary vasodilation
7. It is not recommended to treat the area above the thyroid gland.
8. Constantly use of vitamin A acids (such as roacutane).
9. Recent filler injection
10. Recent surgery
11. Rosacia (Except for face, the treatment can be done in every part of the body.)
How to do before treatment and precaution:
1. Remove all jewelry or metal materials
2. Clean the treatment area until it is free of lotions or cosmetics
3. In case of abdomen treatment, take food at least 30 minutes before the treatment
4. In case of facial treatment, should avoid laser treatment at least 2 weeks before *
5. In case of facial treatment, should avoid of Botox injections or fillers at least 1 month *
6. In case of facial treatment, should be kept at least 1-3 months from Thread Lifting *
7. Depend on doctor
Post-treatment care : you should be
1. Drink 2-3 liters of water a day
2. Avoid the facial sauna after the treatment.
3. In the case of body treatments, do not take a meal immediately after the treatment. Patients should wait at least 1 hour apart
Compiled by Research and Developement [

Revised 1/12/59 ]