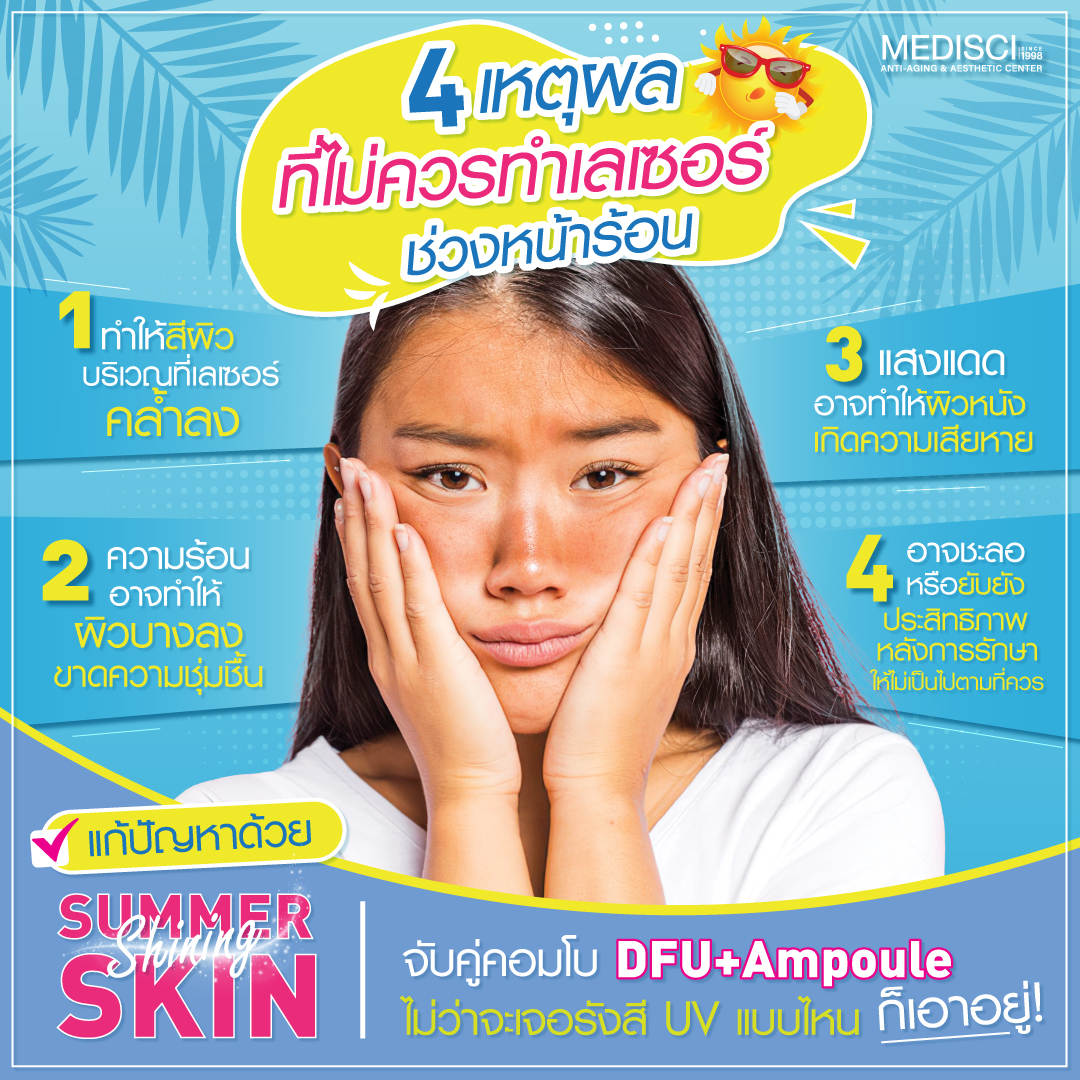 This is another question that many people often wonder about, especially for those who want to get laser treatment for showing off their beautiful skin to friends during summer. Should I get laser treatment during the summer? Due to the hot weather exceeding the mercury, together with the sunlight that is ready to burn us every step of the way. These are all important causes that can reduce the effectiveness of treatment.
So why? including heat, temperature, and sunlight during the summer will have such a negative effect on our laser treatment? If it's like this Should I have the laser done at another time? Medisci Clinic will clear up everyone's doubts.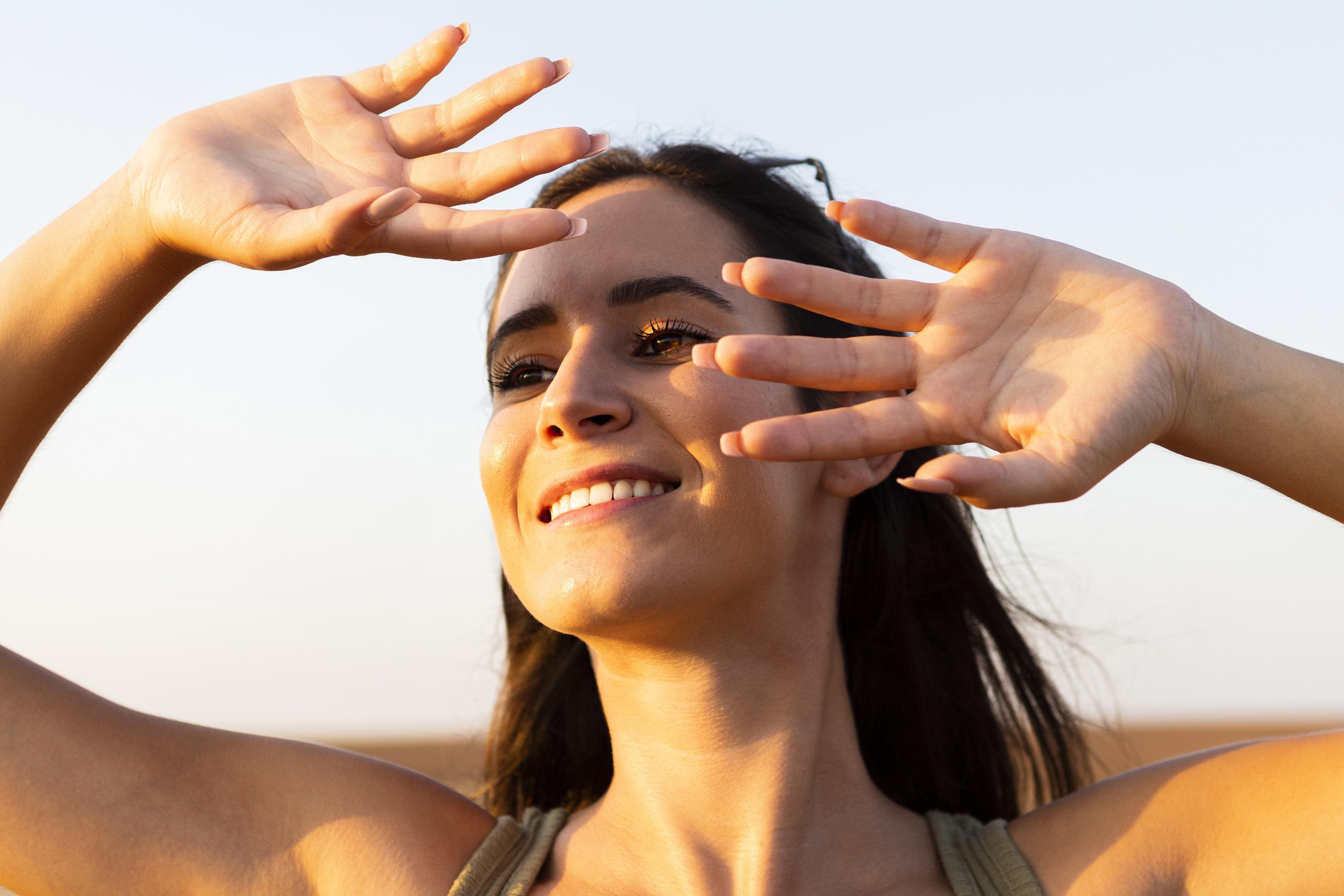 1. Lasers Can Make Skin More Sensitive to Sunlight
---
It is true that laser surgery is considered a treatment with high-energy beams (High Power Laser Therapy) which stimulates cells to create new skin for smoother, thicker, and stronger than before. However, some laser treatments cause abrasions on the skin, especially the epidermis and outer layer, which will appear flaky for a while. Before the body creates new, better skin cells to replace it, however, while it is still in a state of self-recovery Facial skin is especially delicate and sensitive to light, leading to dark skin problems.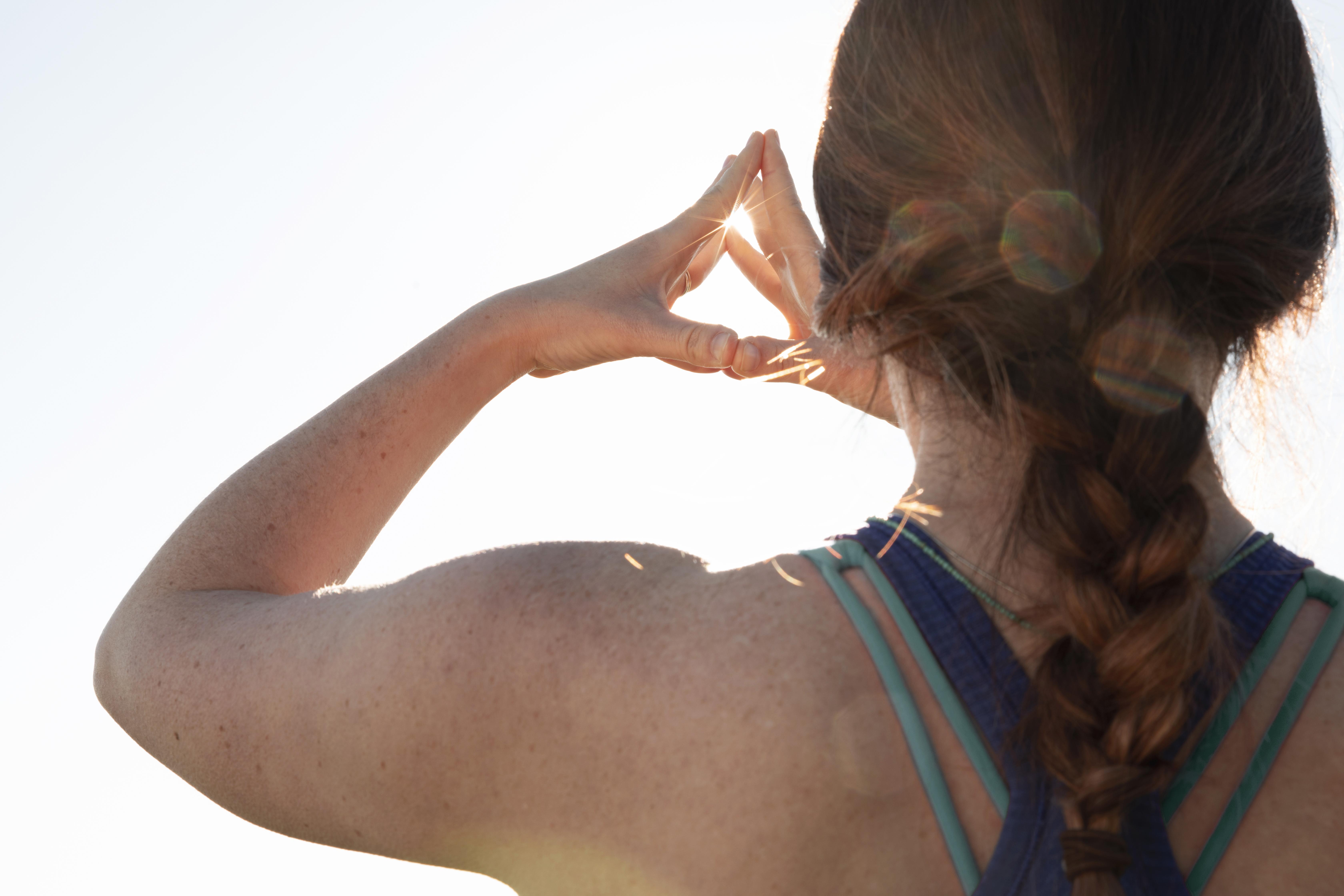 2. Sunlight Can Cause Cellular Damage
---
Sunlight that shines down from the sun contains UV (Ultraviolet) rays, which are divided into two types: UVA (Ultraviolet A-rays) and UVB (Ultraviolet B-rays), although both rays have different levels of intensity and penetrating power. But both types of UV rays are harmful to human skin. Whether it is to destroy the collagen and elastin in the skin. This can cause damage to the skin that has just been laser-treated
3. Hot Temperatures Can Cause Skin Become Dry
---
The hotter the weather, The more the skin becomes drier. Resulting in the skin losing moisture. and dry quickly Moreover, If your skin is left dry for a long time, it will accelerate the sebaceous glands to create large amounts of oil (Sebum) to slow down moisture loss. This makes the face more oily than usual and also becomes a source of dust and dirt that clings together to clog the pores. Which causes acne and other skin diseases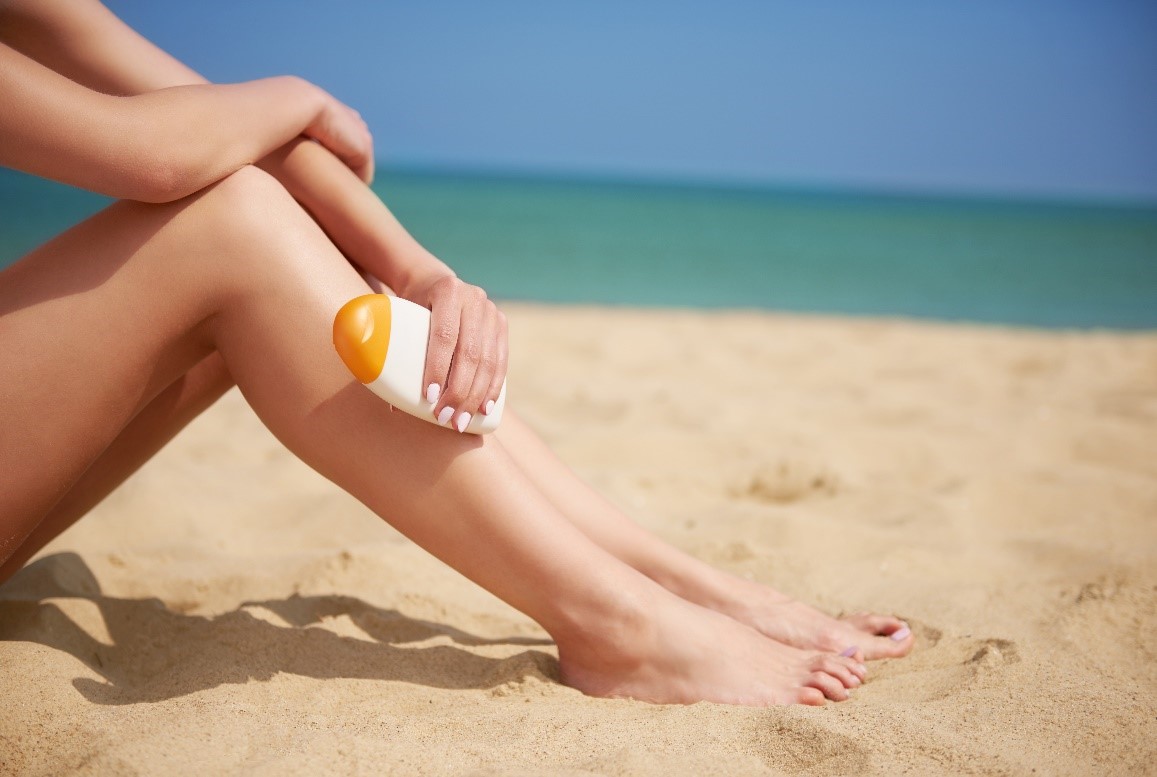 4. Inhibit or Delay The Rate of Skin Recovery
---
Laser surgery usually involves shooting a high-energy beam (High Power Laser) into the subcutaneous layer. To stimulate cells to create more collagen, the skin naturally needs to rest and rejuvenate itself. If you get more sunlight during this summer. It increases the damage to the skin. It also inhibits or slows down the rate of recovery and does not return to normal in a timely manner. As a result, the creation of collagen is not as it should be.
Although many people encounter problems in the manner mentioned above. But what we shouldn't neglect is adding a barrier to protect the skin to minimize damage. If you have to face the sun every time you step out of the house. Having sunscreen or a UV protection shirt that creates an effective barrier would be an option to greatly reduce the risk of your skin becoming brittle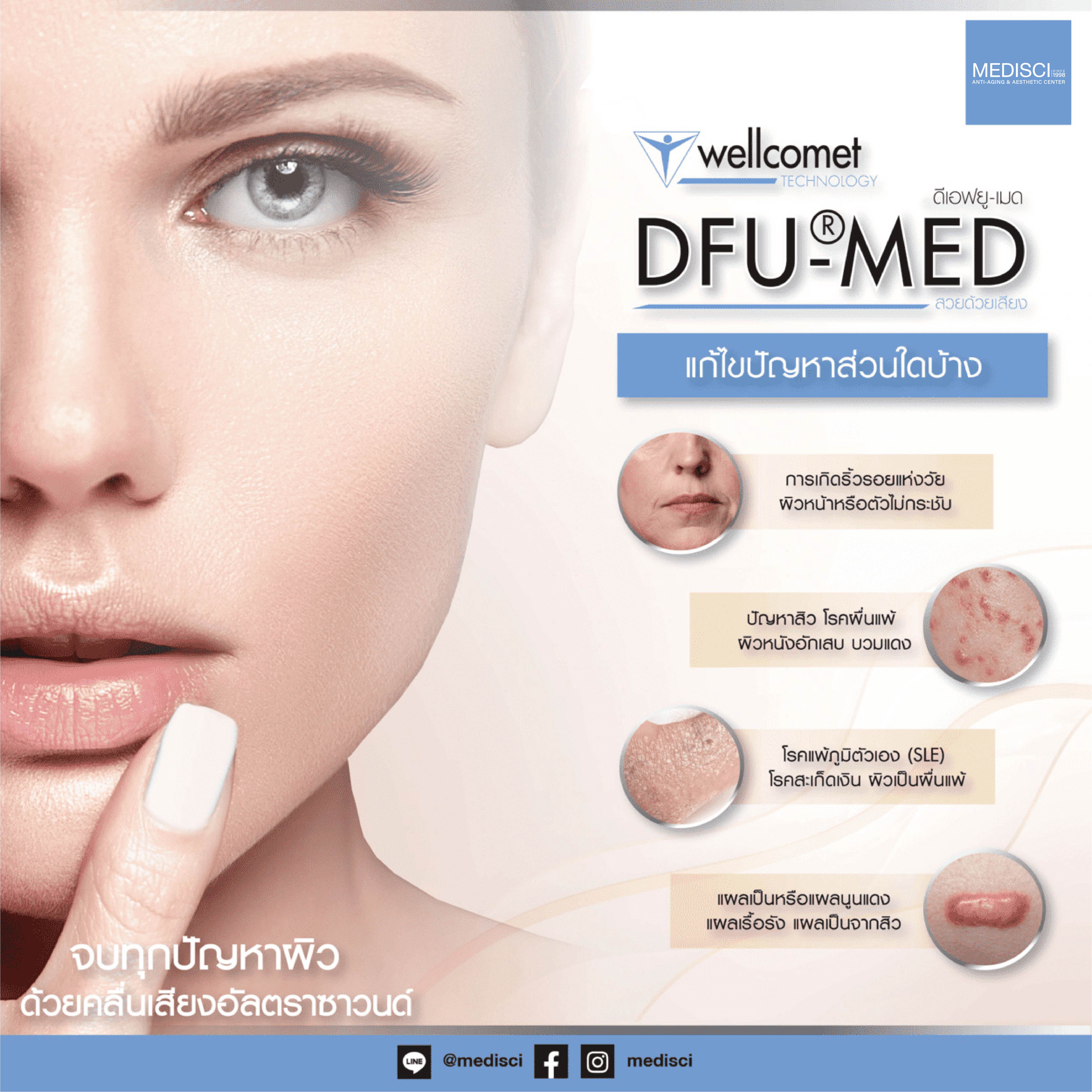 'DFU MED' Another Option For Maintaining Beautiful Skin
---
During Summer
Even though the summer is not very beneficial for laser surgery. That does not mean it cannot be done. If we know how to protect ourselves from the sun, such as staying in a shaded place where the temperature is not hot. Wear a tight shirt. Avoid doing outdoor activities, etc. Just this will help reduce the risk of skin damage after laser treatment quite a bit
There is another option by using DFU (Dual Frequency Ultrasound Technology), which is a treatment with ultrasound waves (Ultrasound Therapy) to help treat skin problems. Create new skin cells and adjust the structure of cells damaged by injury, such as scars, acne scars, keloids, and blisters, as well as restore inflamed skin from acne or allergic rashes until it is smooth and firm. Wrinkles can be faded without using any laser and without causing injury throughout the treatment. Therefore, it is considered an option that answers the needs of those who want to keep their facial skin radiant during this hot summer.
If anyone is interested, Medidesign would like to offer the SAVE SKIN Program skin treatment service that pairs the DFU + Ampoule combo, no matter what type of UV rays you encounter, it can be taken care of. Helps boost the skin to be beautiful, clear, and glowing. No need to be embarrassed by the sun anymore. It also helps protect against free radicals. Accelerates the production of dander factors and Hyaluronic Acid as well.
---