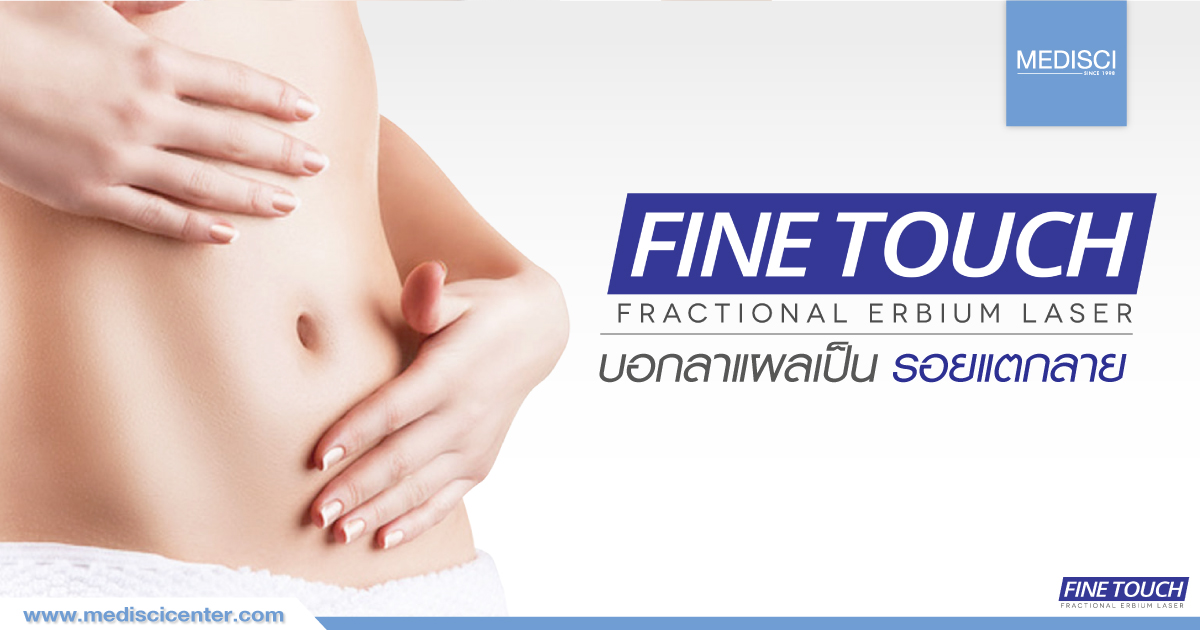 Fine Touch is a laser treatment used for treating scars, acne scars, oily skin, wrinkles, stretch marks, large pores. Fine Touch uses Fractional Erbium Laser technology combining with an innovative Semi Ablative Fractional Laser. Operating by doctors, this technology can be performed on the skin without wound opening, piercing, or destroying the skin.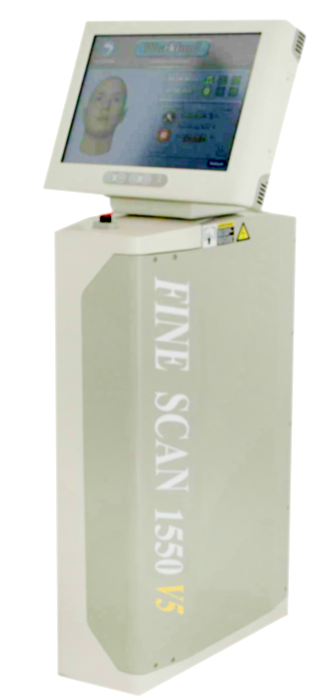 Principle
Fine Touch is a treatment using Fractional Erbium Laser technology, a laser with a wavelength of 1550 nm, which energy will go down into the skin tissues consisting of water molecules. Thus, light waves will be well absorbed. This laser provides an ultra-narrow beam energy (smaller than the hair size) to shoot out small dot on the skin. There are thousands of dots per square centimeters excepting the most part of skin areas in order to support skin regeneration replacing the damaged parts. The beam energy is directed down to the skin at the suitable level to regenerate new skin cells, which have micrometer precision.
The doctor will evaluate the depth of laser into the skin. When the laser beam touches the skin, fractional photothermolysis phenomenon will occur at that area, which old cells will turn into dead cells and will be shed within 1-2 weeks. New cells are also produced to replace those dead cells. For example, if patients want to treat melasmas and dark spots, doctors will emit light down to the skin at a superficial level. In contrast, if you want to treat acne scars or wrinkles, the doctor will deeply emit light into collagen layer.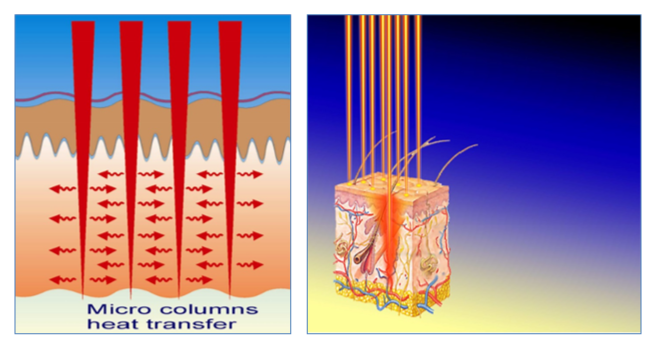 The machine is capable of delivering a laser through the skin up to 1500 microns (1.5 millimeters), gradually rejuvenating the skin, and reducing risk of side effects from the treatment. With an innovative Semi Ablative Fractional Laser, it can perform treatment without opening the wound, piercing, or damaging the skin as other types of lasers. On the contrary, it uses energy transfer principle causing skin tissues becoming dry and dead without peeling off immediately. Therefore, it is clearly useful in restoring the skin conditions and treating deep wrinkles, scars and stretch marks. Patients can go to work as usual with little maintenance such as avoiding the sun, irritants and general dirts.
Suitable for:
1. Treatment of wrinkles and fine lines all over the body
2. Treatment of scars, acne scars, and ice pick scars
3. Oily skin and large pores
4. Treatment of uneven skin texture
5. Regeneration of new skin cells (Resurfacing)
6. Treatment of Stretch marks
7. Depend on discretion of the doctor
Contraindications
1. Peacemaker, nerve stimulators or any type of implanted electrical device, regardless of areas in the body
2. Immune disorder *
3. Pregnancy or breastfeeding
4. Patients using Accutane® should be in the discretion of the professional physician.
5. Nervous system sensitivity on the treatment area
6. Open wound or infected skin on the treatment area.
7. Patients who undergo treatment of wrinkles with injections of fillers should be at the discretion of professional doctor
8. Depend on the discretion of the doctor
Maintenance and post-operative care
1. After 1-2 days of the treatment, some patients may experience a slight redness or swelling like a sunburn and will feel rough and dry on the skin. The symptoms will recover after 1 week of treatment.
2. Avoid the sun and muggy places
3. Avoid irritations to the skin
4. Should apply lotion or sunscreen regularly
5. Avoid taking warm bath
6. Depend on the discretion of the doctor
Compiled by Research and Development department [ Revised 21/12/59 ]
More info: http://finescan1550.com