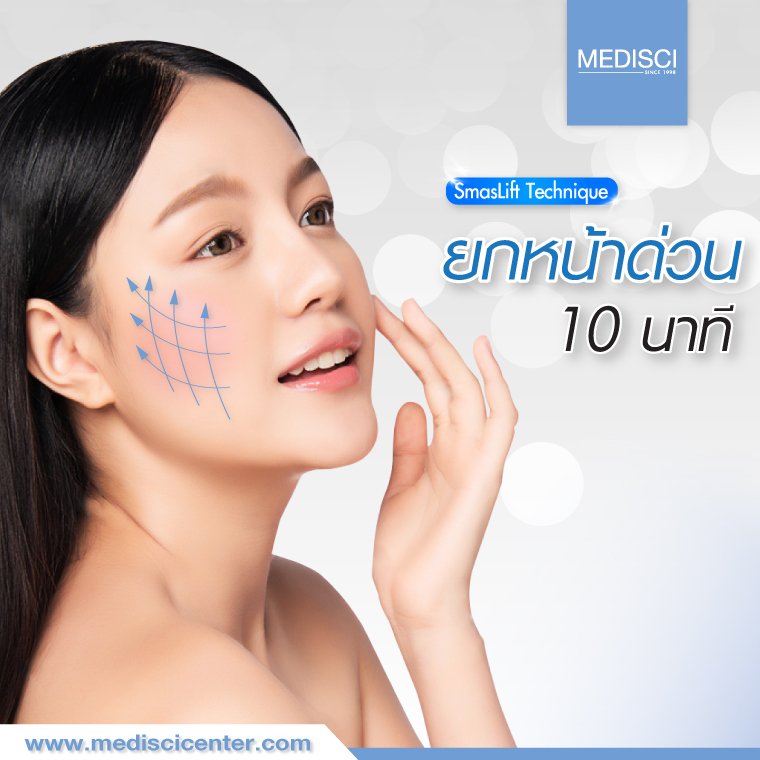 Table of Contents
Click to see what's inside
• About service
• Properties
• Who is suitable for SmasLift technique?
• Preparing yourself before treatment
• Duration of treatment
• What does include in this package?
• MediSci Center information: Work With Heart
• Don't miss our updates at:

Suitable for:
1. People with sagging skin
2. Need a medical procedure for instant result
3. Want skin lifting without leaving scars
4. Unable to recuperate
5. Prefer a natural face shape
6. Want to save time and money
7. Want to tighten the skin but afraid of pain

About service
What is the SmasLift Technique?
- SmasLift Technique is a technique for lifting sagging skin invented by Dr. Atchima. It is a quick solution for the facial sagging problem without causing pain, swelling, or scar. You can see results immediately after the treatment.
- SmasLift Technique is different from surgical facelift, which doctors will correct the sagging of the skin by cutting and stitching the muscles in the SMAS (SMAS: Superficial Musculo-Aponeurotic System). This surgical method requires recovery and may cause trauma, scars, and postoperative side effects.
- SmasLift Technique is also different from skin tightening with sound waves or Hifu, which may cause swelling after treatment and requires 1-3 months for treatment results.
- Invented by: Dr. Atchima Suwanjinda, MD.

Published in the international medical journals
DOI: 10.1111 / jocd.12722, Corpus ID: 51943212, The posterior temporal supraSMAS minimally invasive lifting technique using soft ‐ tissue fillers, Atchima Suwanchinda, Katherine L Webb, +9 authors S. Cotofana, Published 2018 Medicine, Journal of Cosmetic Dermatology.

Properties
- Take 10-30 minutes
- See instant result after treatment
- Cause no pain, swelling, nor marks
- Natural lifting
- Lift sagging skin without surgery
- Results last more than 1 year (depending on the health and care of the patient)
- It can combine with other skin care procedures.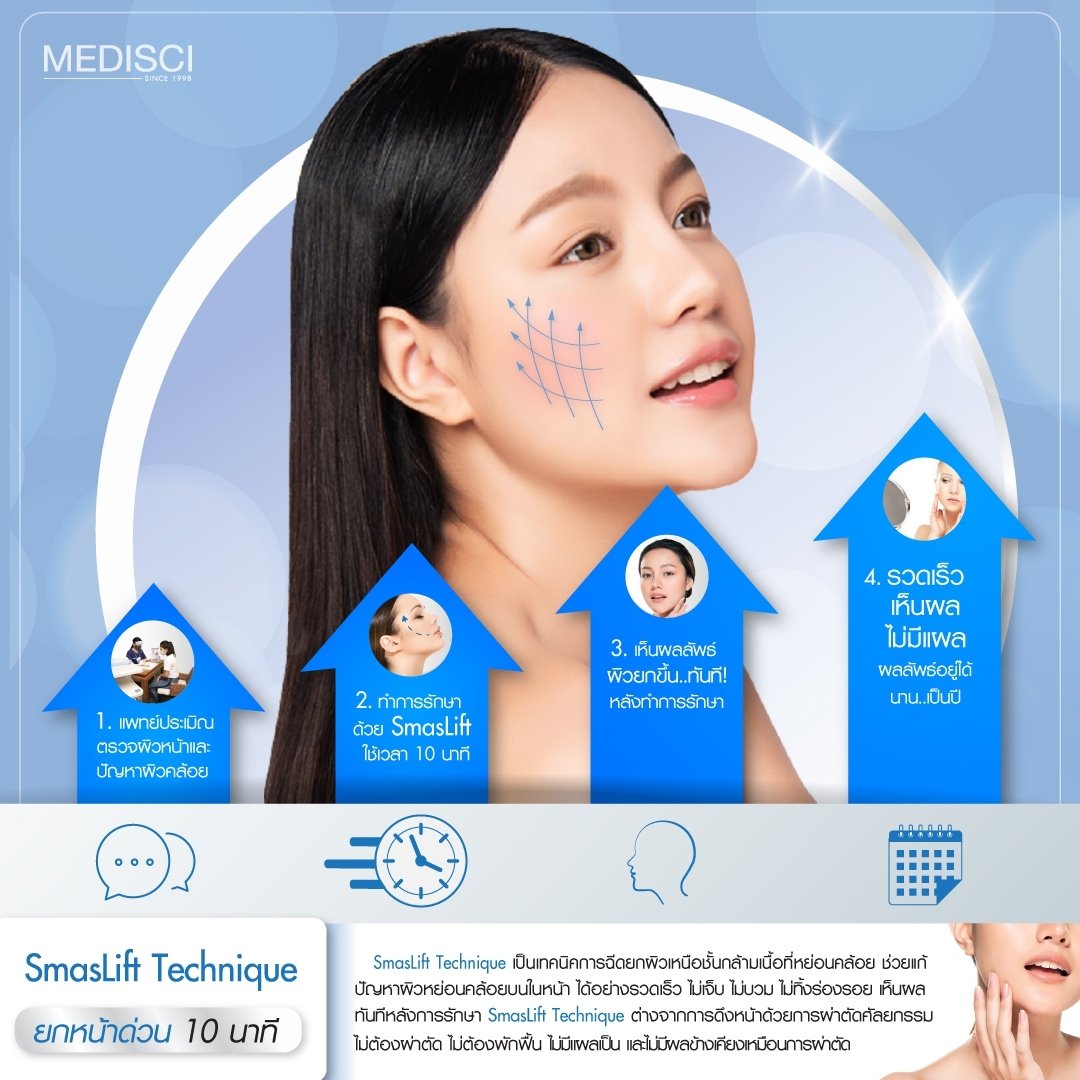 Preparing yourself before treatment
No special preparation is required. You can make an advance appointment before undergoing the service via register at click or call 089-900-6100

Duration of treatment
Treatment is required about 10-30 minutes depending on each person.

What does include in this package?
- Unique techniques with high efficiency and safety by Dr. Atchima Suwanchinda
- Doctor's fee

MediSci Center information: Work With Heart

Work with Heart

Phone : 02-954-9440
( 9:00-17:00 น.)
Mobile : 089-900-6100
Line : @medisci or CLICK
Register at : CLICK

Website : https://www.mediscicenter.com

Location CLICK

Available car park space

Don't miss our new contents at:

Youtube: CLICK

Soundcloud: CLICK